Oh...the Horror!
So I was sitting in my chair, going through my usual morning routine, of checking out all the various blogs and sites that I usually visit, and for some reason, the character of Terry Long seemed to keep popping up. This struck me as being a little odd, since Terry Long, is long-gone...fortunately for all of us. And yet...!
For those of you who may not know, Terry Long was the man that Donna Troy decided to marry waaaaaaaay back when, when she was in the Teen Titans. He was this creepy College Professor, who spent most of his time running around with his shirt undone to his waist, wearing a gold chain and showing off his manscape. He spent far too much time hitting on all of Donna's female friends, and pretending to be "with it".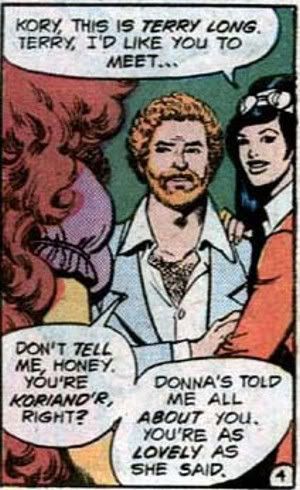 This is Terry Long. There is another picture out there showing him wearing a spotted speedo, that is to horrible to inflict upon you.
*shudder*
Anyhoo, to make a long story short, Donna even managed to produce an offspring from his unholy union. As I said, fortunately, they drove their car off of a cliff and we all enjoyed their fiery death. And Death, is where Terry Long has been residing for a very long time.
However....it occurs to me, that the upcoming Blackest Night storyline in the Green Lantern books could bring about something truly horrible. The Black Lanterns are the reanimated Dead. Which means J'onn J'onnz could be a Black Lantern. Or Katma Tui, or Bzzd. Or...TERRY LONG!
Can't you see Winick doing a story with a zombified Terry Long?
Gah!