Green Lantern Corps #29
Aaaaand, we pick up right where we left off from last issue. John and his doughty band, have gone to the planet Muz, and are trying to find the Green Lantern Durlan, aka Von Daggle. You all remember Von Daggle of course, from his stellar appearance in Green Lantern #7,8 and 9 waaaaaaaay back when Keith Champagne wrote a spectacular story about him, Guy and Ramey H'oll. Still one of my favorite stories, and it also established that the Guardians had an undercover group called the Corpse, for deeds too...dark and dirty for the regular Lanterns.
Anyhoo.
Since the Durlans have teamed up with the Khunds to try and destroy the good name of the Corps, and incidentally seize control of the Universe, Von Daggle is a rather important person at the moment. John thinks that he has gotten him onto their side, but naturally Bolphunga jumps the gun. I have to admit to a certain exasperated affection for Bolphunga.
Then of course, the rest of the Durlans show up and tell him that he is going with THEM...or else! Well, all sorts of things happen including a lot of fighting and skullduggery. Also, Ramey H'oll is missing, and Von Daggle is desperate to find her. There is a lot of other chicanery going on, and a lovely scene that is reminiscent of a Star Wars scene. Meanwhile, Soranik is still missing, and Iolande is worried, but Kilowog needs her to get back to Mogo
And then there is that last page, where we find out exactly where Ramey is! I guess the change from the Crystal she was exposed to, must have worn off.
A pretty good issue.
And for all of you John Stewart fans...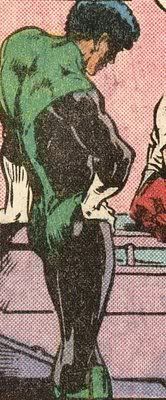 This has nothing at all to do with this issue, but what the heck. I've been falling down on the job lately.