Back to Basics
It has come to my attention, that I really have been falling down on the job lately, when it comes to posting scans of Green Lanterns and their beautiful beautiful behinds. I admit, that I've been in a bit of a funk lately. It's too cold, and the books have been boring.
But still...my end of winter blahs are no excuse for such negligence. With the incredible plethora of female boobage and buttocks, someone has to leap into the breach and provide equal opportunity for ogling of male butts.
And as usual, Hal takes the point.
Oh Hal. So incredibly full of yourself. And flying with your legs apart as usual.
And this!
I wasn't aware that thugs swarm, but trust Hal to find some!
And finally...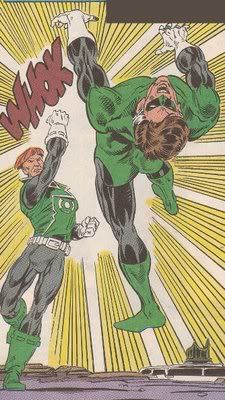 We not only get to see Hal's behind, but we get to see him hit in the head. By Guy no less. This satisfies all of my personal fetishes!
Enjoy!