I Miss Moose
As some of you may have noticed, Colorist Extraordinaire, Moose Bauman has left Green Lantern and Green Lanern Corps. This has made me extremely distraught. Apparently there was something going on with DC, and I do not know the particulars, but he's a little bitter over on his own site, which is a darned shame.
Now normally, when I read a comic book, I notice the writer of course, and I notice the art. The inking, unless it is particularly horrible, is not something that necessarily leaps out at me, although sometimes when it is particularly gorgeous, I do actually notice. Same with the lettering. I can appreciate the work that it takes to do something like Scarab-speak in Blue Beetle, but ordinarily, it is just...there.
Back in the old four-color days, the coloring never even really registered. Nowadays with all the computer stuff, and the nice paper, the coloring is much more important. A good colorist can make a huge difference to the look of a book, and occasionally even rescue a mediocre artist. Not that that was ever a problem on the Green Lantern books, which have had consistantly excellent artists...at least of late.
But I really really liked Moose's coloring. He seemed to have absolutely every shade of green at his command, and he made all these shadings and glowy effects...it was and remains...gorgeous.
Take a look at the upcoming cover for Green Lantern Corps, which alas, will be Moose's swan song for the GLC. First we have the black and white drawing by Pat Gleason, which is beautiful all on its own...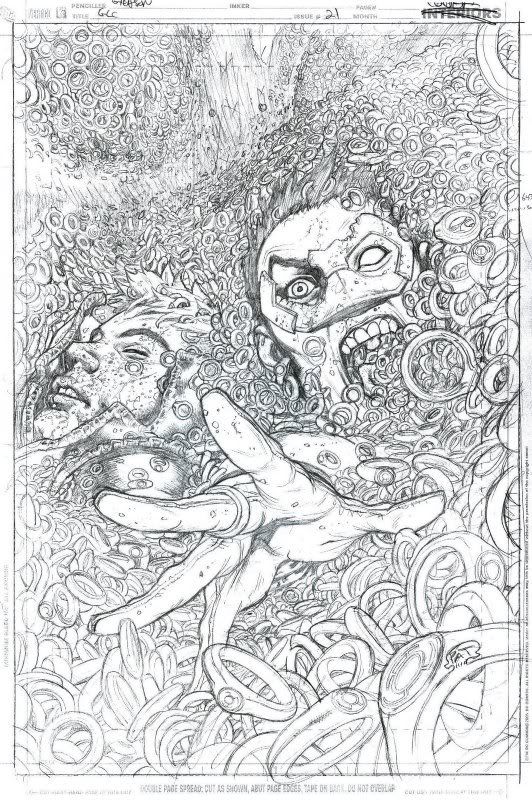 Nice, eh?
Then we have the generic coloring job, that was hastily done so that they would have something for the solicits.
Not bad, but not great either.
Now look at THIS!
Stunning. Absolutely stunning.
If it is a question of money, then perhaps DC should simply bite the bullet and stump up some cash, because that is a talent that is worth cultivating.