Blue Beetle #25
Oh. Oh MY!
So after last month's cliffhanger, do I dare to admit that I was in a fever of anticipation for the next four weeks, a fever that was finally doused by the arrival of the new issue yesturday? Could it, could it possibly actually be as good as I was hoping for? YES IT COULD!!!
Let us begin then...
Dan Garrett, Ted Kord and Jaime Reyes all on the first page! My little fangirl heart started thumping. What makes it even better, is that the blue narration boxes, are BY the Scarab! Turns out that it wasn't dead at all, his name is now...Khaji Da, and the Blue Beetle is his friend, by God!
The Negotiator is having a little bit of trouble dealing with being outmaneuvered, to say the least. The Reach is trying to get the engines started, but they can't. That little 'ol code that Jaime downloaded WAS just a bunch of numbers, but it was enough for him distract the Reach and allow the Scarab to do the actual job of hacking the computers. The Scarab and Jaime are working together, in unison and as a partnership, and you can just SEE the panic start to set in, in the Negotiator.
He yells for Dawur, who is busy trying to annihilate Jaime's family back on Earth, but there is one little problem. Jaime's friends and family are worried because something or someone has landed behind them, although it turns out that Milagro is the only one with a clue.
<
Oh yeah, baby! If that's not the most perfect entrance I've ever seen. And there's Milagro down in the corner doing her best to mimic his stance. At this point, I am indulging in tiny squeals of delight. My dog is staring at me in consternation.
And then it gets even better. The Reach feel that they might have a chance at taking down a single Lantern...except Ice shows up, and points out that he's got help. There is a lovely moment with Guy and Peacemaker fighting next to each other, and exchanging bon mots in the heat of the battle about who was dead, and who got better. It is all starting to freak poor Jaime's mother out a bit, to see exactly what it is that her baby boy is doing in his spare time, but his dad points out that their boy is a MAN now and as tough as him mom. *sniffle*
Meanwhile, back on the ship, matters go from bad to worse...for the Reach anyway. Somehow Batman's satellite is functioning. Remember the Satellite from a little ways back, when Jaime ran into the Titans? Yeah, THAT satellite. The Negotiator just can't figure out how Jaime managed to get word to Batman since they monitored every electronic frequency and every bandwidth he could have used. Didn't matter, since Jaime wrote Batman a LETTER, and had Dani Garrett hand-carry it to Oracle. So all of the Reach's plots and shenanigans are right up there on the view screens of the entire world. The world is not slow in demanding clarification and demands for surrender. At this point I almost start to feel a tiny bit sorry for the Negotiator, because he is SERIOUSLY fucked now. Then he decides that if the Reach can't have the Earth, then... NO ONE can! Men. So dramatic.
<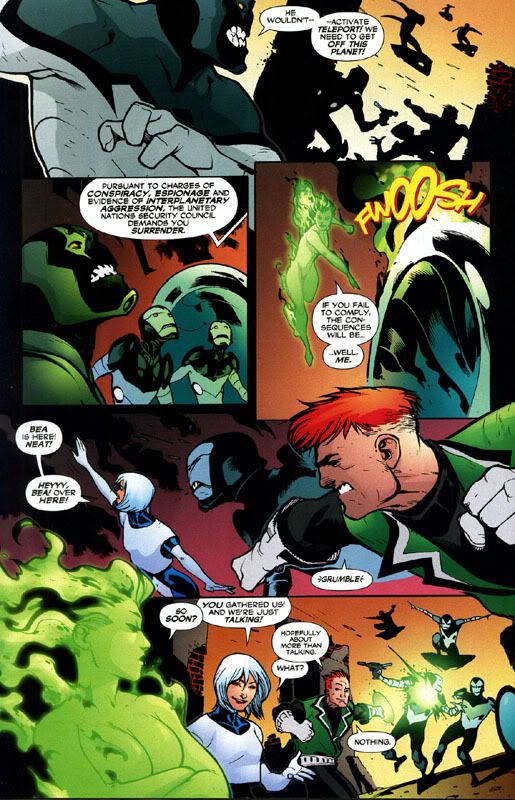 Just to improve things, if that is possible, who should show up but Fire, with a message from Checkmate. I love how Tora is waving to her, and Guy is snarling under his breath. But we can't forget that there is still one heck of a firefight going on, and Paco, Brenda and Milagro are still in the thick of it. Which leads to this...
<
Hah! I KNEW it! You can just see Milagro going "Paco and Brenda, sittin' in a tree, ..." Then Dawur shows up and figures if he can't beat up a Green Lantern, an Ice Goddess or a woman made of green Fire, then by God, he'll beat on some teenagers! Two unPOWERED teenagers. Funny how things work out, since they hand him is ass. Oh Paco, you and your stick! AND Brenda.
Back on the ship, the Negotiator has run off to set off the bombs, but of course Jaime figures out (with a little help from Ted) how to rain on his parade. He and the Scarab manage to make it so that the Earth isn't going to blow up, but they run out of time to escape. Just as the timer is about to go off, who should show up? Why it's Booster Gold of course, he grabs Jaime and they are out of there, just before the ship explodes. Jaime even wanted to try and save the Negotiator, but that didn't work out.
<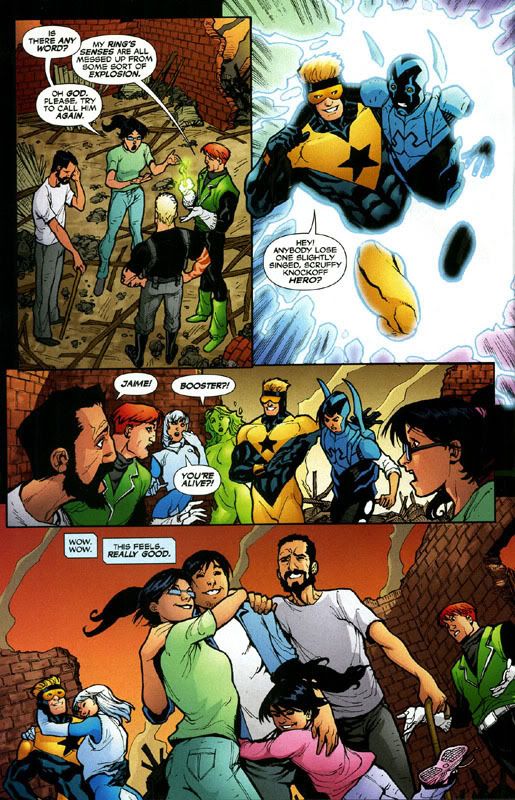 There is a brief moment of consternation back on Earth as they try to figure out what just happened, but fortunately, Booster and Blue Beetle show up, none the worse for wear. Bea and Tora are thrilled to see Booster alive. Jaime's family run over and hug him, as Tora runs over and hugs Booster...much to Guy's chagrin.
And...there is a happy ending. The Reach...or what is left of them, are gone, the Reyes house is rebuilt ( I suspect with a bit of help from Batman) and they have a nice big barbecue in the back yard, and everybody shows up, including Booster, Guy, Ice and Fire. Jaime is happy, his family is happy, EVERYONE's happy.
Hell, I'M happy. I'm so happy I can hardly stand it. So do yourselves a huge favor and go out and get this, and then you'll all be happy too. And lord knows, we could all use a little bit of happiness.