Holy Guacamole!
Well, wasn't this a love week for comics? Good comics. FUNNY comics. Even mildly amusing and not completely terrible comics.
Booster Gold, Green Lantern Corps and Wonder Woman were my favorites, and I'll be getting to them in a different post. But I have to say, that there were some rather splending moments in the other books that I managed to get my little grubby hands upon.
Countdown #3...well, only three more issues to go, and things are heating up again after what I imagined was going to be the climatic battle on Apokolips. Things rather stalled for a bit after that, but now Mary has been turned bad AGAIN, but at least they are back on their own Earth this time, which is a bonus. Superman fights with Darkseid, and Jimmy Olson does...stuff. But what really appealed to my black black heart, was THIS scene...
Mary Marvel, using Kyle to club Donna into oblivion. Am I a bad person for having a fit of the giggles over this?
Green Arrow & Black Canary #7...was actually...rather...(I can't believe that I'm saying this)...good. Winick has been driving me crazy, but I have to admit, albeit grudgingly, that this was quite amusing. First off, Hal shows up.
I always enjoy it when Hal shows up. Hal not only shows up, but he manages to make Ollie look like a complete idiot, which is certainly something of a change of pace for the two of them. Haw! You're not making Nazi comparisons NOW, are you, Ollie!
Hal is being shown as...competent.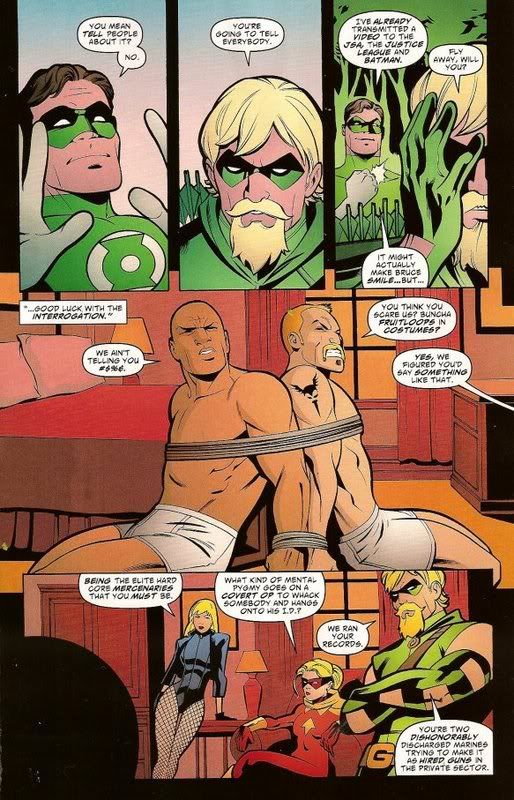 Hal is shown as having a sense of humor! But then again, so is Ollie, Dinah and Mia. Let's just say that they have some rather...unnusual interrogation techniques. It involves a large clown, a sheep and an old lady dressed as a rabbit. Oh, and a digital camera for the Internet. Some jpegs. Some live streaming.
Needless to say, the two goons crack under the pressure.
Justice Society of America #14...Beautiful art and a nice story as usual. And WOW! Sandy has some action! Dialogue and some backstory and several pages of him in his jammies! Be still my heart. I love the Justice Society, but it has grown so huge lately, that there hasn't been much of an opportunity to see all the members, which is a shame.
There is a lovely two-page spread of everybody around the big table, and Ma Hunkel being motherly and all. Then Gog shows up and they all fight for a bit, and Alan gets pissed because Gog is beating up on their kids. THEIR KIDS! Which leads more or less to this...
Whew! That sent a shiver up my spine! Alan and Todd together being badassed. Todd and Sandy BOTH having some dialogue!
Be still my heart.