Guy Gets Animated!
While poking around Geoff John's Message board, I discovered something rather interesting. I was a huge fan of the recent animated Green Lantern show, on the Cartoon Network. They did a pretty darned good job with Hal, and Kilowog and the Guardians and all of the other characters that they used. Particularly good versions of both Mogo and St. Walker.
Well...according to Spinoff Online, which quotes TV Guide, when Hal returns in September, he'll discover that he's been replaced, while off fighting the Red Lanterns.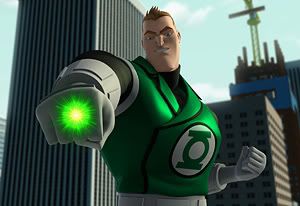 I...Am...Giddy!
Yes, Guy is coming to television. He's made two teeny tiny cameos on Young Justice, but never for more than a second or two...and he DESERVES to be animated! He's going to be voiced by Diedrich Bader from Batman: The Brave and the Bold, which I find to be rather hilarious...and inspired.
Oh God, I can't wait.