A Little Halness
You know...it's been a while since I made mock of Hal. And that's a shame, because making fun of Hal was one of the main reasons I even STARTED this whole blogging thing. What with all that has been going on lately, with the whole DC 52 reboot, the stuff that Marvel has been doing, and just the general state of the world, it has been too easy to lose sight of the important things in life.
Such as the stupid things that Hal Jordan does on a daily basis.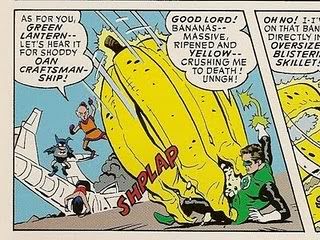 A giant Banana Hal? Really?
Oh Hal I've missed you.