Oh What the Heck
It's Tuesday. It's hot. I haven't a thought in my head, other than it's hot.
So...I'm just going to post a fun picture.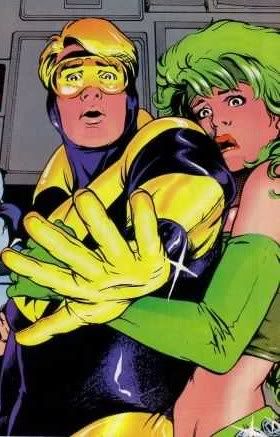 Booster Gold and Fire.
I LIKE Booster and Fire. Booster unfortunately is leading the soon to be cancelled JLI team, and Fire, while a part of that team, is currently in a coma. That's actually sort of a rite of passage for old JLIers, Guy has been in a coma a couple of times, so was Blue Beetle, and I think even Booster once. Ice was kind of in a coma, while she was sort've dead. I don't think that Batman has been in a coma...he probably has anti-Bat Coma spray in his utility belt or something. Max Lord was in a coma once at least.
How did I get into this whole thing with comas?
Anyway.
Two of my favorite characters.