Butts Or Reviews?
Or how about both?
Not a LOT of books at the comic book store, but fortunately for my nerves, the one that I'd been thirsting for did come in.
Batman: Streets of Gotham #7
Wow. The first story was both chilling and heartbreaking. Pretty powerful, and well done. Manhunter is always fun of course, but poor Dylan!
The Brave & the Bold #30
This was a team-up of Hal Jordan and the Kent Nelson version of Doctor Fate. Somehow, Dr. Fate had put a bit of himself in Hal's Lantern after the Justice League had defeated the Grey Man, way back when. Then when Hal gets himself in trouble on an alien planet, his essence reappears and they have a long and slightly tedious philosophical discussion. It's all very heroic I suppose, but a bit pointless.
It is embarrassing that the first thing I noticed was that it showed Hal wearing the black shoulders on his costume when he first catches up with Dr. Fate, but he hadn't worn that particular version in quite some time, even if it was a flashback. I'm SUCH a pedant sometimes. This was nice if you are a Hal Jordan fan, but not the most spectacular issue ever.
Fables #91
Woohoo! Things are actually happening! Bufkin, aided by his friends in the office manages to make short work of Babi Yaga...much to her surprise. And Gepetto is up to his old tricks. This was awfully good. And it has naked tree people, which is always fun.
Green Lantern Corps #43
Oh My God! Guy! Kyle!
Justice League of America #40
The Justice League women continue to fight against the reanimated dead members of the Detroit League, not to mention Zatarra and the evil rapey Dr. Light. Insults are flying, and self-confidence is low, but fortunately they get their various acts together and prevail. Nothing mind-boggling, but a perfectly good story.
The Outsiders #25
More of the same, the various members are beleagered by evil Black Lanterns, and finally figure out that blinding white light is a good weapon. So basically the same plot as JLA. But boy howdy, is Terra evil or what?
Power Girl #7
God, I love this book. The art and the dialogue are a hoot. A hoot and a half! Power Girl is being pursued by Vartox of Valeron, so that she and he can repopulate his planet. Yes, he wants her for her genes. Too bad he's such a tool. This is really really good.
And speaking of Doctor Fate...!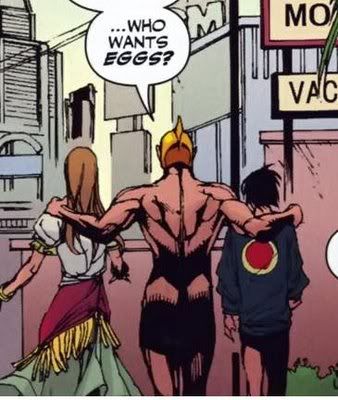 I just couldn't resist.