That Weird Team-Up
There was this time that Jonah Hex and Hal Jordan actually had a team-up, along with Zatanna, Ralph Dibny, Bat Lash, Scalphunter and a few other characters. I don't remember precisely where, I don't remember precisely WHY in God's Name, they decided this would work, but work it did. I DO believe that Time Travel was involved, as it naturally would have to be.
Anyhoo...it's just Jonah's luck to stumble upon a prostrate Hal. He probably managed to knock himself out some how...knowing Hal. After a bit of confusion, they end up getting along fairly well.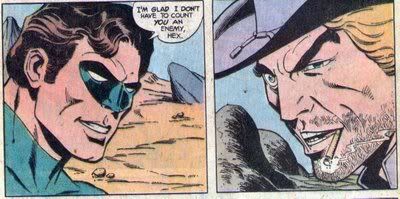 Great Galloping Horny Toads, aren't they just adorable?
Then Jonah decides to shoot somebody, and Hal gets all pissy.
When in Rome, Hal...when in Rome.