Happy Father's Day!
Just a little shout-out to all the Dads out there, who enjoy comics, and to their kids, who are being led down that dark and dangerous path. Way To Go! Our boys are taking their Father to the Annual Litchfield Bug-In, which of course, features Volkswagens by the boatload. They'll come home, hot, tired and sunburned, so of course the day will have been a success.
What do Comic Book Characters do for Father's Day? Not a whole lot, probably, since so many of them seem to be orphans or missing their Dads. Hal probably sits around, strokes his leather jacket and cries a lot. Guy on the other hand, probably pops a cold one. John and Kyle...probably not a whole lot.
Alan Scott on the other hand, gets to go and hang out with Todd, who gets him a nice card and an electric nose-hair trimmer. They get togther with Wildcat and Wildkitty, and go to the theatre and watch the new Star Trek movie and have some nice male bonding. And Ma Hunkel makes them all waffles. Yet another reason, why it is so much better to be in the Justice Society instead of the Justice League.
Let's see, who else? Lian probably makes something for Roy out of glitter, macaroni and glue. He loves it of course. The twins give Wally a coupon for free french fries. Dick and Tim would have liked to have gone out to dinner with Bruce, but I guess that's on hold for this year. Bummer. But in his Father's honor, I'm sure that Damian blows up something.
I hope that Conner made it back to see Ollie. That would be nice. Diana doesn't really HAVE a Father, but she went home and hung out with Hippolyta, just the same. I don't imagine that Deathstroke gets much in the way of cards, or even a phone call. Can't imagine why. Same thing for Sinestro.
Anyway,have a nice day, all you Dads!
And, to show that I haven't forgotten this little bit of fussin' and feudin' with Dwayne,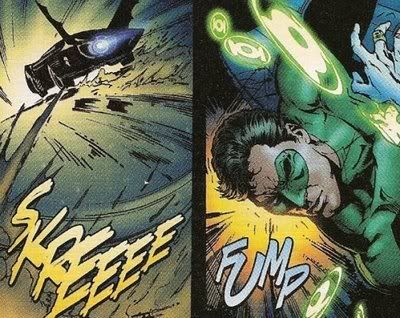 Hal whacking his head in the Batmobile. Hal,you REALLY should learn to use a seat-belt.