I Have A Cunning Plan!
According to Jake in yesturday's blog entry, both Dwayne and I have each inadvertently breached the rules of our contest. Therefore, I have an idea,and am putting it to Dwayne. We can declare our contest a Draw, and EACH of us, can post for a week as the other. I'll be putting on a drawl and posting scans of Jonah, while Dwayne can ogle Hal's buttocks.
Or not, that's probably not exactly his thing. But he could say something nice about the Green Lanterns.
And we both end up with the tattered remnants of our dignity intact.
What say you, Dwayne, and humble readers?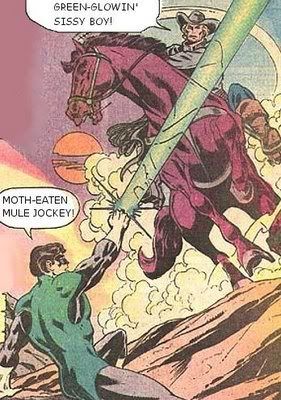 See? They actually LIKE each other. That's just the playful way that manly men talk.