Well EXCUSE ME!
Dwayne is starting to get all technical about some of my scans...saying that not ALL of them show Hal getting whammed in the noggin. I suppose that a few are open to...interpretation. We can't ALL spend our time getting clonked with rocks and gun butts after all. Hal just happens to be attacked by a very WIDE RANGE of weaponry, not to mention body parts.
He also seems to spend a lot of time getting thwacked by his friends and colleagues.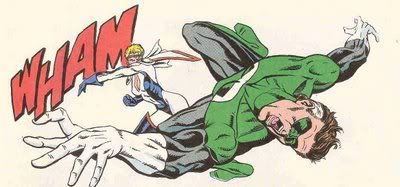 Oh Justice League, Europe, you weren't quite as funny as the JLI, but you certainly had your moments.
So...what do you, my beloved (as well as handsome and beautiful) readers think? Has Dwayne won? If you think so, then I will graciously throw in the towel. If not, then he MUST KNEEL BEFORE ME AND KISS MY PINK HIGH-HEELED BOOT!
Oops. Sorry about that, I seemed to be channeling the Star Sapphires for a moment.