And Whack A Lantern week continues for day Three
Good Heavens, we are all still at it. So far, we've had some lovely entries from Nick. Googham over at Random Happenstance has one with Hal that will make you wet your pants. Sea of Green continues to delight us with multiple examples, including Jimmy Olsen. JIMMY OLSEN! If that's not embarrassing, then I don't know what is. Notintheface over at Stars & Garters has Hal and Superman, and there is some Blue Beetle hilarity over at Fanwank, and that's just today or yesturday. I appreciate all of your devotion to the idea of Green Lantern buffoonery.
Now THIS one is a little bit on the...odd side.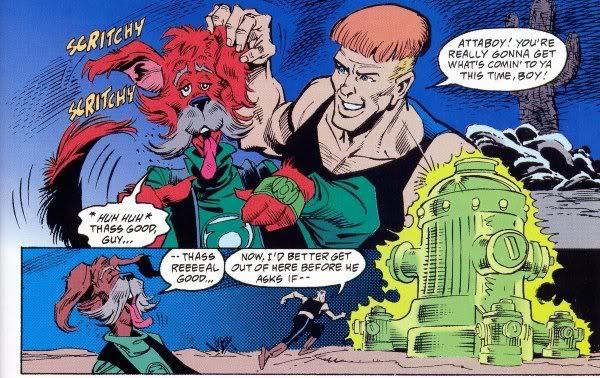 I know that when I mention Whacks, I usuall mean blows or pummellings. And yet this one certainly involves Guy voluntarily touching G'nort...and MESSING WITH HIS HEAD!
Seriously.
You just KNOW one of G'nort's legs was twitching.