Egad!
We all pretty much know that Hal Jordan is something of rogue with the ladies. What we DIDN'T know, is that he may have inherited that particular trait from one of his parents. And I don't think that it was Martin.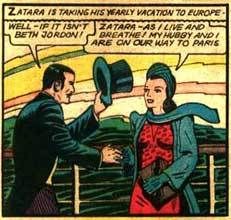 I saw this on "Polite Dissent" and simply had to have it. That's Zatarra, who is the Father of Zatanna. And I swear, that has to be Hal's Mother. Was she ever given a first name? I seem to recall seeing her name on a tombstone a while back, but I can't remember what it was, and I'm far too lazy to go and look it up. Besides, this may be her middle name or a pet name or something.
But there's nothing like a transatlantic voyage to stir up a little romance. I can only assume that Martin is below decks heaving his guts out. While he may be one heck of a pilot, that isn't to say that he's one heck of a sailor. I'm also assuming that they are travelling in the company of his rich uncle, who's name I also can't remember, but they used to go to Jordan Family Reunions at his mansion all the time, back in the old days.
I wonder if she thought back to this later on, when she was a widow, stuck with raising those three kids out in the California desert?