Whack a Lantern Week, Day Two
And the carnage continues.
I'm using this particular scan as my mascot for the week, just because it is so darned appropriate. Heh.
But moving on, I'm so pleased with the wonderful examples that you've been displaying. And in that moment, let me show you all my next example.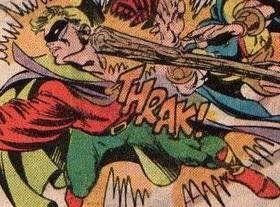 Yes, that's Alan Scott, and yes, he's getting bludgeoned with a wooden cudgel. That used to happen a whole heck of a lot more in the olden days, than it does presently. I don't know if it is just because Alan is more adept at dodging attacks by now, or if it seems rather bad form to attack someone old enough to be your grandfather.
But a sexy SEXY grandfather.