Green Lantern Corps #27
<
God, I love this cover.
Another little gem from Mr. Tomasi. Luke Ross is taking over the penciling chores from Pat Gleason for a few issues, I believe, and he does a very nice job, although I have to admit that I'm so used to seeing Guy portrayed by Gleason, that it looks...odd for a bit, to see him drawn by someone else.
Anyhoo. Mongul is defeated, and unfortunately, Bzzd didn't survive the encounter. This depresses me more than I can say, except that he went out as a true hero. Oh, and Guy and Kyle are having their grand opening of the new version of Warriors on Oa.
Heehee! Guy is obviously in his element, while Kyle just as obviously doesn't have a clue. I was pleased to see that there is a long line out front and Kilowog is standing at the head of it.
Bzzd meanwhile, having had a nice funeral, is being inducted into the Crypt, by Morro, who always takes such care in doing things right. I like Morro, he's an interesting character. He is a little startled however, when Saarek shows up and starts babbling about talking to the dead. I get the distinct impression that Morro is a tad on the skeptical side, at least at first, until Saarek says high from Morro's dead brother Marrg. Apparently, the Dead are getting cold. And restless. This does not bode well.
Back at the bar, it is pretty obvious that the boys have had a banner night. I thought I'd throw in this scan, purely for the fact that Kyle's behind is just gorgeous.
<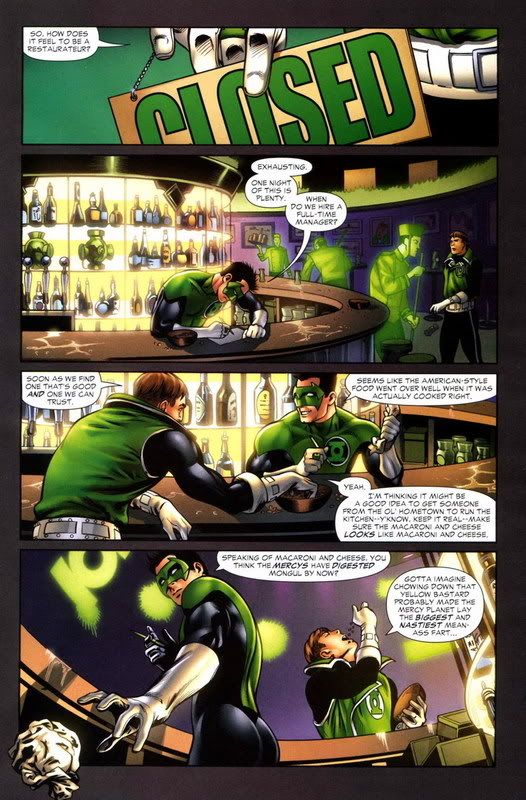 Well that, and Guy scarfing all the peanuts.
Funny that they should mention Mongul and his digestion. Turns out that Mongul isn't completely devoured. They probably should have taken his rings before leaving, but with all the kerfuffle over Bzzd, I guess they just forgot. Like this isn't going to come back and haunt them eventually.
So, Guy and Kyle are still having their post mortem at the bar, when Guy's ring goes off with a reminder that there are "fourteen days remaining to Big Apple Excursion". Kyle of course, is curious, but Guy gets all shifty-eyed and tries to change the subject. Naturally, Kyle won't let it go, and Guy finally admits that it's a reminder of his upcoming date with Tora, and that he's going to take a week or so off, and Kyle had better mind the till. They have a final toast to themselves, and Kyle wanders off into the dawn, not forgetting to have his ring conjure up some Raybans. Guy continues to clean up, and discovers something unsettling in the trash.
<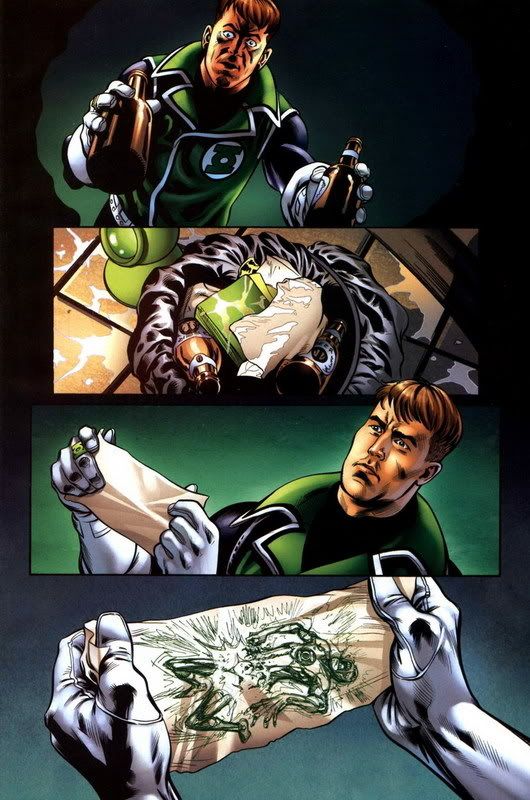 Unsettling, indeed!
On the planet of Citcaatana, which is populated by adorable polar bears who live in the cutest little igloos you ever saw, some very dire things are occuring.
Kilowog and Kyle are on a nearby moon of Oa, helping to train some rookies. This is interesting, as I never knew that Oa HAD a moon or moons. I suppose that it also makes sense to have training areas there, as it would cut down on the chance of damage to Oa itself. I also imagine that all of the various Green Lanterns who are suffering from hangovers appreciate it even more.
Soranik Natu just HAPPENS to wander by. Yeah right. She says she wants to check up on some of the GL's that she's helped heal before they head out to their respective sectors, but it is pretty obvious that she really wants to sneak a peek at Kyle's buttocks. And who can blame her? To the unconcealed delight of the recruits, she and Kyle start throwing innuendoes back and forth at each other. What brought this on? A sudden realization of her own mortality? A distaste for bedpans? Iolande turned her down? Guy turned her down? The fact that Kyle is right there, and utterly adorable?
Too bad that it starts to rain. EYEBALLS! Eeeuuw, yuck! As Green Lanterns, there isn't too much that they haven't seen, but even they are grossed out. Being a doctor, the first thing that Soranik does is analyze the DNA in the various bodyparts, and they discover to their horror that they are all relatives of assorted Green Lanterns. Guess somebody in the Sinestro Corps is still hacked off. This is further hinted at by the fact that the Parallax symbol was reflected in the eyeballs of the victims. Saarek shows up and manages to use his "speaking to the Dead" mumbo jumbo to show the face of their killer.
He ain't pretty.
As usual, it is an excellent issue. Tomasi really has a flair for good dialogue and characterization, and the art is very pretty. Blackest Night is really starting to loom up on the horizon.