Goethe was a Hack!
So, I was reading an excellent book the other evening, entitled "The Natural History of Stupidity" by Paul Tabori. In chapter VII, he showed that any number of people that we consider to be geniuses and great men, were derided and scoffed at by their contemporaries. For example, here is a critique of Goethe's "Faust" by Franz von Spaun, a contemporary of his.
"No delirious, fever-ridden man mumbles as many idiocies as Goethe's "Faust". The pen falls from my fingers. To clean up THIS Augean stable would need more than the strength of Hercules. I won't speak of the clumsiness of the verses, whatever I read showed sufficiently that the author cannot compete with even the most mediocre talents of the old school..." and so on and so forth.
There were an awful lot of people who thought that Shakespeare was the worst playwright ever, including Samuel Pepys, who thought that Romeo and Juliet was the worst play he'd ever seen, that Twelth Night was "silly" and more.
Others wrote of him:
"He is much too difficult to understand. He has neither tragic nor comic talent. His tragedies are the products of the playhouse hack. His comedy is much too vulgar and produces no laughter. He isn't original, just a copyist...He writes for the mob he delights in horrors, he has no charm, no grace, he is witless, boastful.."
I had to laugh. You just KNOW that if the internet had been invented about 500 years earlier that these guys would have been blogging. It DID tend to put things into perspective however. There has always been criticism, and I'm pretty sure that there always will be. There has ALSO always been fanboy/fangirl entitlement. I don't know if there is any fanfiction about Romeo & Juliet, but if there was, I am sure that there would be Romeo/Tybault slash, and a happy ending somehow.
So the next time that somebody starts reviling Geoff Johns, Grant Morrison or Brian Michael Bendis, I suppose we should take it all with a grain of salt.
Except for Judd Winick of course. He really IS a hack.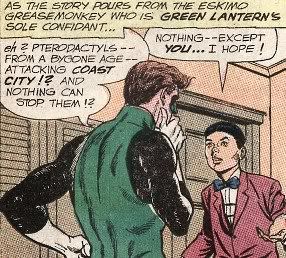 But THIS? This is...Literature!