Why it is a Good Thing, that Aquaman is back
I LIKE Aquaman. He's not my absolute favorite of course, but there IS some green in his costume which helps. But let me make this absolutely clear, that by Aquaman, I mean the OLD Aquaman, in the green and orange, with the short blonde hair and both of his hands. And his finny friend. And the giant seahorse. And the octopus.
Like some of you, I first came to know Aquaman from those blissful Saturday mornings stretched out in front of the television watching Super Friends. Yes...I'm old. So old. But I liked him. And he seemed to have a nice time hanging out in the Justice League with all of his friends, even if he didn't seem to do a lot. But there was potential, dammit!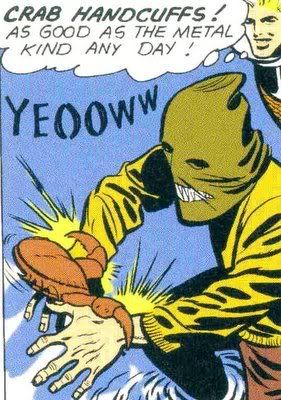 How can you not like a person who does this sort of thing?
And this? I believe that I filched these from Scipio, who has TONS of really fabulous Aquaman pictures.
And I loved...LOVED the Year One mini-series of the Justice League, where Hal was an ass, and Barry was earnest, and Arthur kept mumbling because sound carries differently underwater than it does on land. Was that Mark Waid who wrote that? I really should actually go and look in the boxes, because I haven't read it for a while, and it was GREAT!
*ahem*
Then of course, they had to go and make Aquaman all grim and gritty, and boring with long hair and a harpoon, and his teeth clenched all of the time. Did anybody in the '90's EVER unclench their teeth? No wonder they were all so cranky all the time.
You know who else did a rather fun Aquaman? Kevin Smith, when he brought back Oliver Queen from the dead, and he meets up with Arthur, who is beating the bejeesus out of the Black Manta, and Ollie is shocked, and starts into his spiel about fat cats and so on, and Arthur is just flabberghasted. Then Ollie tells him that he should never have changed his look, that orange just SUITS him, and Arthur actually listens! And HUGS him! It was a heartwarming moment, and probably the best "OMG, YOU'RE BACK FROM THE DEAD" sequence ever. Considering how often people come back from the dead, you would think that there would be some acknowledgement of that fact once in a while, but they are all so lackadaisacal about it.
Well anyway. I'm glad that Aquaman is apparently back. I say "apparently" because we really haven't been given a whole lot of information yet in Final Crises, other than the sight of him in all of his scaly orange glory, riding on the giant seahorse! Woohoo!
Now, if they could just put him and Barry back in the Justice League....