Slightly Anxious
Back from vacation, back to work, and now I am worrying about the future of the Green Lanterns. Heck, I'm a bit in a tizzy about how things are going at DC period. They don't seem to be treating their writers very well lately. I don't know if that is Dan Didio's fault, or Bob Harras's fault, or if there are other corporate muck-a-mucks involved, but I DO know that a heck of a lot of awfully good writers are apparently fed up and then some.
It is not encouraging.
Not that Marvel can necessarily hold their heads up high either. There are some good books coming out, and I am wandering around their aisles, but I'm pretty burned out on Avengers and X-Men lately, although Hawkeye has been fun, and Young Avengers is a hoot. Still miss Nextwave however.
But still...I have always known that Geoff Johns was going to be there on Green Lanterns. Except that he has told his tale, and now it's over, and I'm a little on the terrified side. Hal is back in the bosom of the Corps, and all of the members who were mad at him, are pretty much dead now. John is going to be the star of Green Lantern Corps, which is fine, I like John, and he has been neglected for too long. Simon Baz is apparently going to mostly be hanging out with the Justice League, which actually seems like a good idea...since the other Earth Lanterns are pretty busy.
But where does that leave Guy? I know that he is supposed to be in the Red Lanterns now, but quite frankly, I simply cannot STAND the Red Lanterns. It was an interesting concept for a little while, but it seems to me, that it has outlived its novelty...and purpose. And yes, Guy WAS a Red Lantern, and it was a pretty fabulous story, but then he was cured, which was good, because he HATED being a Red Lantern, and was extremely thankful to be rid of it.
Which is something that I wonder about whether or not the new writers even are going to take into consideration. Plus he's not the old brain-dead Guy either. So, you can understand my feelings of trepidation.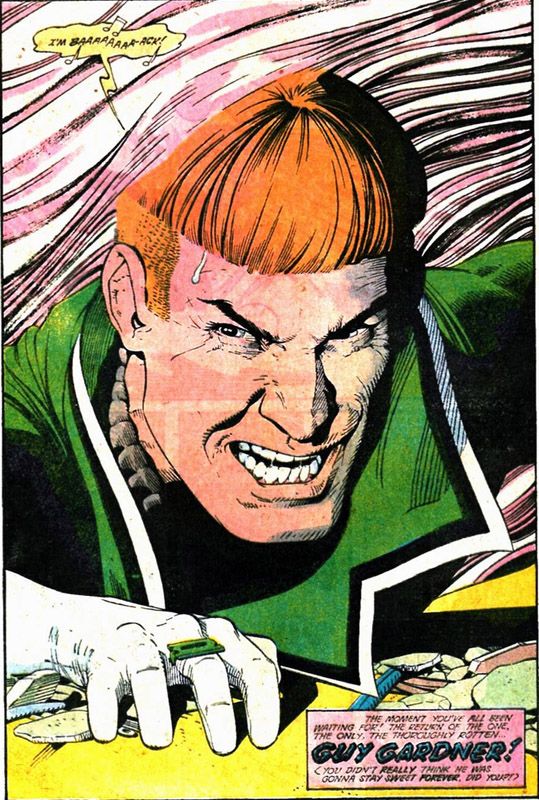 Guy is back, and he should be Green.