Tuesday Thumpings
I decided to change things up a bit this week. Normally, I would be offering you another toothsome rendering of Hal getting thwacked, or maybe Guy or Kyle. Probably not John. John just doesn't seem to be hit in the head. Heck, even Alan got hit in the head sometimes.
But I saw this...and couldn't resist.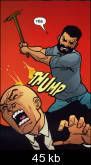 Booyah!
That's Mister Reyes, aka Jaime, the "Blue Beetle's" Dad. Thumping an unknown baddie WITH HIS CANE! The Reyes family are some of the best supporting characters ever.