Justice League International #1
And so...this was the one book that I was really really looking forward to, since I have nothing but happy memories of the old JLI. This is a bunch of characters that I will always love to read about...or at least most of them. I have a few quibbles and a few questions, but really for the most part...I'm happy with this new book.
We begin with some national leaders, who are gathered together with questions about the JLA. They like having them around...but feel that they don't have any control over their activities...which makes them nervous. So, they decide to form their OWN Justice League. One that they can control. There is a bit of commentary back and forth, but they come up with some candidates, most of which are accepted. Plastic Man and the Green Arrow didn't make the cut however, and neither does Jaime, the new Blue Beetle, because they don't want any rookies. There is also some trouble going on with demonstrators over the Hall of Justice, which they apparently feel belongs to THEM...and not to the U.N. Oh, and a group of scientists disappear under peculiar circumstances in Peru.
Anyhoo...Booster Gold shows up in his new uniform, all happy and sassy and ready to join the JLA. He's slightly shocked to discover that it is actually a NEW League, but he's quite happy to realize that he's the one that they want to run it.
Too bad that Guy Gardner doesn't feel the same way.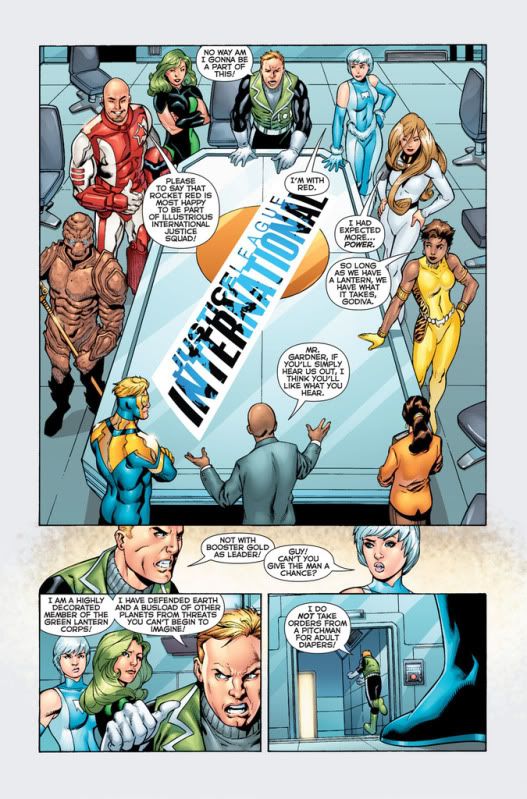 Oh Guy. It just wouldn't be the JLI without you having a hissy fit at the beginning. I'm starting to feel quite at home. Booster does point out that contrary to Guy's statement, he has NEVER lent his name to the sale of adult diapers. Lady Godiva, who is new to me, is nevertheless convinced that he has the physique for it. Lady Godiva is obviously ogling Booster's behind, and really, who can blame her? Tora tells Booster to go after Guy and stroke his ego a little bit, but Booster declines.
Guy stomps up onto the roof, where he runs into Batman. They actually have a reasonably civil conversation...civil for these two anyway. Guy is a bit miffed that he's been passed over, and to be quite honest, he has a valid point. Batman says that Booster is actually smarter than he looks, or words to that effect, but Guy is still cranky, and flies off in a snit. I'm not worried...I'm sure that he'll be back.
Meanwhile the rest of the group, which now consists of Booster, Fire, Ice, Vixen, the new Lady Godiva, the new Rocket Red and the August General in Iron all crowd into the hangar of their headquarters to admire their new jet...courtesy of Queen Industries. Rocket Red and the General compare their opinions on aviation, and off they all go, to look into the little matter of those missing people in Peru. Booster wishes that they actually had a bit more raw power, and their new U.N. liason points out rather snarkily that he shouldn't have let Guy leave then. The jet takes off, and who should be at the controls...but Batman! Batman isn't necessarily a part of the team, since he's already on the JLA, and the U.N. doesn't trust him anyway...and yet...here he is. And it probably is a good thing.
So, they get to Peru, and weird stuff starts happening. Also, a couple of those demonstrators try to blow up their headquarters, which seems like a rather dickish thing to do.
I have a few questions. I understand that this is apparently the FIRST incarnation of the Justice League International. Batman and Booster obviously know each other, and Batman has kept his relatively high opinion of Booster. But Guy says that he's only worked with Booster a couple of times, and considers him to be a glory hound and a flake. How does Guy know Fire and Ice though? Ice obviously knows Guy, since she has such good advice for Booster. There is no mention of Ted Kord at all. Did JLI: Generation Lost still happen? If that is so, then it makes sense that Fire, Ice and Rocket Red have a good opinion of Booster's abilities. Did Guy and Ice date before? Are they still together, or did they break up? Are Gavril, the new Rocket Red and Fire together, as was hinted in Generation Lost? Vixen didn't do much, and I'm not too sold on Lady Godiva.
Booster's new uniform is...ok. I don't even mind the upper part, but damn, I miss his shiny gold pants. Too much blue. Bats is tolerable. He's not even as obnoxious as he usually is, which is a refreshing change. I was glad to note that the U.N. and the rest of them do realize that having a Green Lantern around is a Very Good Thing in the raw power department. I can understand why Guy is miffed. He IS number One, in the Honor Guard of the Green Lantern Corp, which is a thunderingly great honor. Too bad that nobody on Earth realizes this. This isn't the old brain-dead version of Guy, he's used to ordering around Green Lanterns and doing a pretty bang-up job. But these AREN'T Green Lanterns, so he has to learn a whole new way of dealing with this motley crew.
Dan Jurgens does a good job, I thought. At least everybody actually is THERE in the first issue, and the art by Aaron Lopresti is quite nice. I'm pretty sure that Guy is going to come to the rescue in issue # 2, and I'm looking forward to seeing the interaction between these characters, and how much has managed to stay from the old continuity, and what is going to be new.
So...a huzzah. A cautious huzzah, but a huzzah nonetheless.
(I'm REALLY wondering if they kept that goddamned awful Winick retcon of Ice's origin, or if Jurgens is going back to the REAL one.)