NOT A Green Lantern
Oh blah. Monday, and I haven't a single thought in my head. Just once I'm going to post something that has nothing...NOTHING to do with Green Lanterns.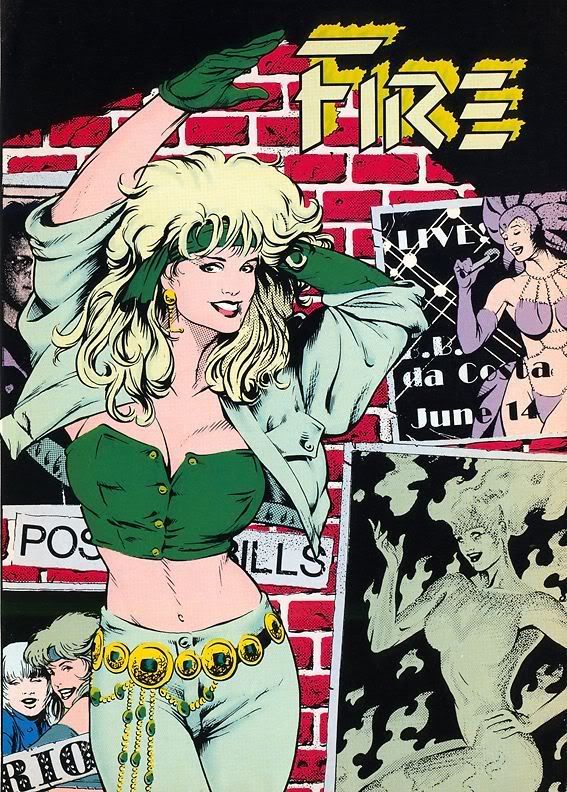 This is a nice picture of Beatriz Da Costa, better known as Fire. She WAS in the old JLI with Guy of course, and she's Tora Olafsdottir's best friend (aka Ice) and she does have a green butt, so perhaps I'm not straying too far away from my original concept as much as I thought.
Anyway...I like Fire. I think that she's being criminally underused lately. On the other hand,sometimes that's not such a bad thing, as writers have a nasty tendancy to eye a second-tier character and wonder what they can DO with that character, which leads to...unpleasantness. Bea has had a hard enough time of it lately over in Checkmate,where they've made her a spy and assassin, and given her an old meanie for a father and...and stuff. Not to mention losing Tora, then that whole weirdness with Ice Maiden, and the hook-up and break-up with Guy...she's had a tumultuous time of it.
On the bright side, Tora is back and Booster is back, although sadly, Ralph and Sue are not back. Maybe she and Guy can actually learn to get along with each other, at least for Tora's sake this time around. I STILL haven't seen any writers address the whole relationship between them which is something of a shame. Duskdog has written a charming little story about it, which I suppose will just have to suffice.
Gee, I guess I DID have a bit more to talk about than I thought. I wonder if Bea is going to have any role in the upcoming Blackest Night story? They've already mentioned Tora, so I imagine there is a possibility. I just hope that they all make it out alive and whole, or I'll be QUITE miffed. I'm getting tired of my favorite characters becoming worm food.