Maniacal Matchups
You know what I like? I like Team-ups. That's one of the reasons I always liked "The Brave & The Bold" and "Marvel Two-in-One" and stuff like that. Where they would take two heroes that wouldn't necessarily work together, and...well...put them together for some reason. It was just fun.
So, I was trying to think of some of the most bizarre team-ups that I could, and I do believe that I have conceived of one that may not have ever occurred. On the other hand, what do I know?
Yes...I give you...
VIBE vs Geo-Force!!!
and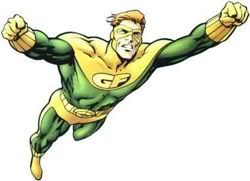 Granted, Vibe is no longer with us, but let's not allow that to stop us from their really really excellent team-up. Or possibly NOT a team-up but something a little more adversarial.
But who would win, in this clash of Titans? Well, Geo-Force has his own country, which I must reluctantly admit, is rather cool. And he can make earthquakes and stuff. But hey, Vibe can break dance, and he has vibratory powers! Put the two of them together and you have DC's best Movers and Shakers!
I...I can't believe I actually said that.
Anyway, what interesting heroes would YOU all like to see paired up?