Back to Normal
After this past few days, it was almost a relief to go back to work this morning! Plus both of the big bosses were out all day, so it was a nice calm day.
Hal however NEVER takes a break from fighting crime, from fighting Aliens, or just from fighting.
As we can clearly see.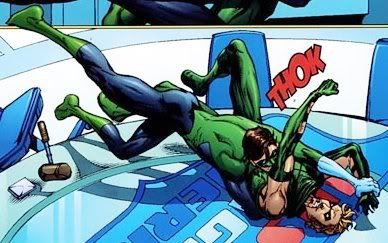 Apparently he and Ollie have had another small difference of opinion. This is from the recent DC Decisions Mini-series, #1. Do ALL of Hal and Ollie's minor disagreements end up in manhandling each other? They have BOTH managed to clonk their heads in this particular shot, so it's a two-fer.