And...we're still at it.
I'm beginning to suspect that Dwayne and I have entered the realm of obsession, with our dimwitted devotion to the sight (and occasionally sound) of our respective boys getting their butts and brains handed to them. And yet...I'm enjoying myself in an odd sort of way. Peace and love and understanding are all fine and wonderful things, but there's just SOMEthing about a roundhouse blow to the chops that really gets your blood flowing.
Over at Matching Dragoons, Dwayne has somehow found a scan showing Hawkman gently slapping Jonah, who is riding a flying horse. I cannot even BEGIN to fathom the back story to THAT little scenario. I do however, have a rather odd-ball one myself.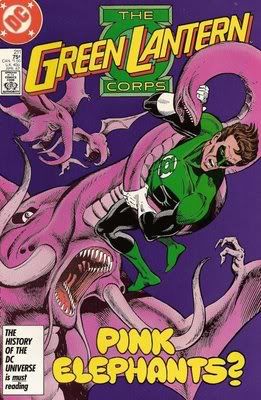 How often are you attacked by surly alien pink elephants? It's probably not a daily occurance in our neck of the woods. This is courtesy of Green Lantern Corps #211, and incidentally one of my absolute favorite stories. This is the one where Guy gets them all drunk out of their minds, because he wants to celebrate New Year's Eve. John ends up proposing to Katma, Hal and Arisia are out in the woods rutting like weasels, and everyone else is alternately exhilarated or depressed. Salaak, who is a cranky drunk, is the one who dreams up the Pink Elephants, who attack everyone else. It's A TRUE Classic.