Signs of Desperation
Oh crap. Back to staring at a blank computer...desperate to come up with something...ANYthing to write about. How do real columnists and writers DO this day after day?
Let's see, there is a giant killer storm wending its way across the entire continent, and it will...naturally...hit New England by Wednesday. Snow, sleet and ice, and so forth. Naturally, my childish brain seized upon the forecast that was for Wednesday, and my first thought was that it was going to be VERY difficult to get my comics. Not that school maybe delayed or cancelled, or if there is enough milk in the house, but "Oh God, What About My Comic Books?!" Please tell me that I'm not the only person who has that sort of ridiculous reaction.
In the Good News Department, I think that the second Starman Omnibus is coming out in February. This is VERY good news. And the third one is coming out in June, just in time for my birthday. In my best Doctor Doom voice, may I just say that this pleases me.
Oh, and the best traditions of this particular blog, let me just post this.
Batman being stupid ALWAYS lifts my spirits!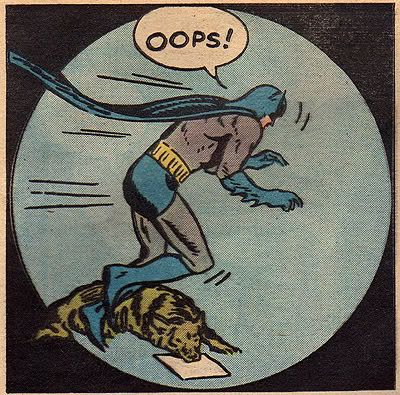 I could throw in Hal getting hit in the head and showing off his behind, but I don't want to push it.