I Missed It!
Gah! I missed last night's viewing of "The Brave & the Bold" on the Cartoon chanel. Granted, I did have a valid excuse, such as picking up my son who had been attending an awards ceremony for Habitat for Humanity, but still...!
Fortunately it is on again tonight. I do believe that this is the episode with Ted Kord as the Blue Beetle, although I'm pretty sure that Jaime will show up again. I keep hoping that Guy will show up too. You can just never have too much of Ted.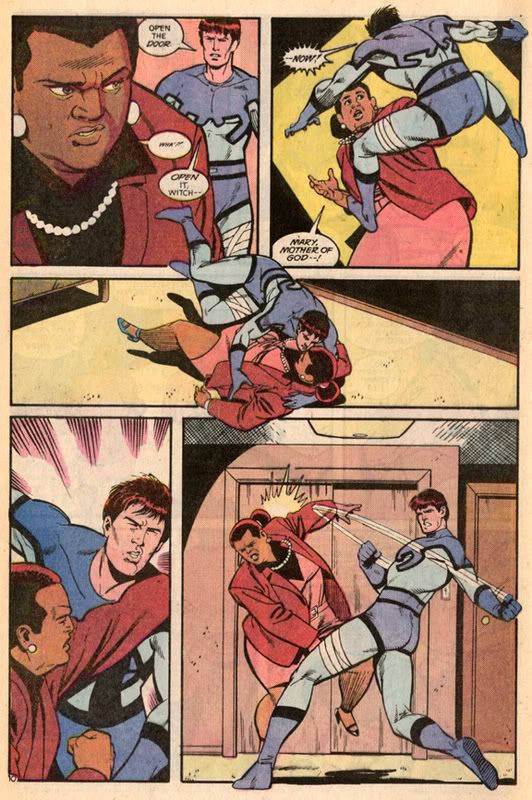 This is from one of my favorite plotlines of the old Justice League, written by Giffen and DeMatteis, and beautifully drawn by Ty Templeton. Ted has been brainwashed by that Biaylian Queen Whatshername, and tried to stab Max in the previous issue. Amanda Waller is there to try and figure out what happened. Don't worry about her, she manages to kick Ted right in his leg wound, which is nasty,but effective.
But Ted's just so cute here, dagnabit. AND evil. We don't get to see Ted being evil very often, but he does it very well. Of course it's not his fault, but every hero should have the chance to be mind-controlled once in a while, so that they can chew the proverbial scenery and show everyone how powerful they REALLY are.
Well except Hal of course. He takes being mind-controlled to an extreme level, in typical Jordan fashion.