Life in the DC and Marvel Universes
It must be interesting to be an average person in either the DC or Marvel Universes. Life would certainly not be humdrum, what with the sky turning blood-red, or alien invasions every other Tuesday. There is a lot that we could learn from these stalwarts. In our reality, we have a tendancy to go to pieces whenever there is a problem, but in comic books, tidal waves, earthquakes, floods, hurricanes, tornados, the complete destruction of New York City, the complete destruction of Gotham City, the complete destruction of the Earth,hell, the complete destruction of the UNIVERSE happens with dull regularity, and nobody bats and eye.
That's because frankly, life with Superheroes is just better. Sure, you may be invaded by super villains, but it is usually just a temporary nuisance. Ok, possibly your entire town may be plucked up by omnipotent beings and placed on the other side of the galaxy, but the up side is, that you don't have to pay your Federal Income Taxes this year! And any wandering Green Lantern will eventually get you home. Look at Jaime Reyes. He was MIA for an entire YEAR, and other than some well-placed anxiety on the part of his immediate family and friends, nobody thought anything about it. When he got back and re-enrolled in school, it was considered just a part of doing business.
Hobos have it pretty good in the comic book world. Whole suits of clothes are readily found in just about any alley in the country. Granted, you have to wait for that webbing to dissolve, but afer an hour or so, you're golden. Wolverine ALONE keeps half of the population of New York in brand new leather jackets. There is also the occasional bonus of an entire Superhero suit, just stuffed in a trash can.
There are all of those handy technological pursuits as well. You can't deny that unstable molecules could be a very handy thing to have around. Plus, the odds of simply LOOKING fabulous are much higher. There just aren't that many ugly or fat people in the comic book world, and the ones that do look less than perfect tend to be villains. If you are a woman, you are more than likely to have incredibly firm and pert breasts and wear a thong. If you are a man, you probably won't have much in your pants, but by god, you'll have great muscles everywhere else!
In the comic book world, with a little bit of luck, you too can pick up a strange rock that will give you powers or be bitten by something radioactive. Instead of your hair falling out and you getting sick, you'll get cool powers! If you are the sort of person who would enjoy a bit of villainy, then there seem to be just tons of crazy inventors and scientists who are just waiting and eager to develop the odd bit of hardware, freeze-gun or potion to fill your needs.
And robots. We have robots, but they just aren't as COOL as comic robots. Who wouldnt' want a cute and cuddly or sarcastic robot? I know I would. You probably would like one too.
But mostly, I'd like to live in the comic book universe because scenes like this would be quite common.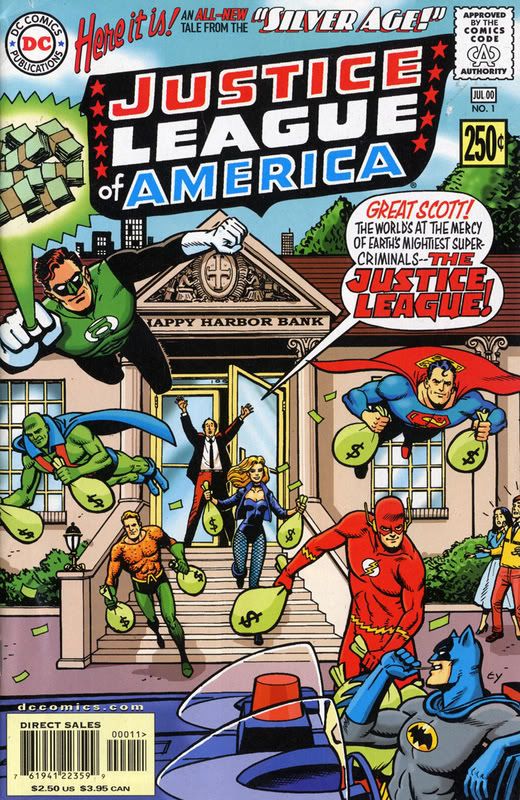 Banks should definitely have a large "$" on the bags. It just has style. You'll notice that Hal hasn't even bothered with a $ bag. I don't quite know how they are all going to fit in the Batmobile, but rest assured, that Batman will have it covered. Somehow.