Don't Read This...!
...If you are easily offended, that is. It's snowing like mad, and I can't get out to the Comic Book Store, and therefore, my childish mind has taken control over my more mature intellect, and I started wondering...exactly what sort of nicknames do you suppose that the Green Lanterns use for their penises?
At least the MALE Green Lanterns. And any other male super heroes. Being female, I don't have a whole lot of experience in this particular sub-culture. I just know that I don't know of too many women who have nicknames for their...um...girly bits.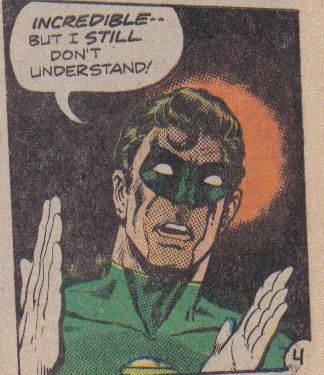 Kalinara once theorized that Hal would call HIS penis, "Mr. Happy". This seems like the sort of thing that Hal would do.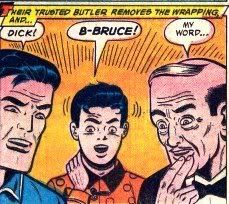 Now Batman and Robin certainly aren't Green Lanterns, but they ARE Super Heroes, and this certainly seems to bring up the whole subject. My personal belief is that Batman always called his the Batpole, but based on this scene, I'm guessing the Javelin or something. I don't know what Dick calls his. It just seems too obvious.
I guess we can deduce what Guy calls his. At least it shows some imagination!
I suppose that Alan's has something with "wood" in it. Teehee!
Do any of you have some better suggestions? Use your feelthy feelthy imaginations!
I imagine that poor Kyle has been too traumatized by the numerous deaths his love life seems to have caused. I can't ever seem to think of salacious things around John for some reason. But I'll bet that Wally has LOTS of nicknames!