It's All Karma, Really
Poor Janet Van Dyne. Killed off (?) in the last issue of Secret Invasion. Now, killed off aparently in the Ultimate version as well. What IS it about the Wasp that makes her such cannonfodder? She was even killed off once before, way back when they had that whole Secret thing with the Beyonder and all of that. Nobody noticed, and she showed up again, none the worse for wear.
I cannot help but think however, that in this latest "death" that Janet probably brought it upon herself. In fact, she's probably the one character who is the MOST to blame for the entire run of Marvel events, so in my view, she deserved to die. Not that I think that she really DID die, not for one moment. She's whisked off to another dimension by Thor? No big deal, knowing Jan, she's probably running the joint, and will be invading earth in a few more months herself.
Janet after all, is the one who was responsible for the whole House of M. SHE'S the one who while lying around gossiping with Wanda, couldn't keep her big yap shut about Wanda's imaginary kids. SHE'S the one who brought up the whole crazy mess with Wanda in the first place. Indirectly, she's responsible for the deaths of Vision, Hawkeye, and the second Ant-Man.
House of M, and its whole "No More Mutants" thingie, then led to Civil War. Civil War then led to Secret Invasion. Not to mention all the craziness going on with the X-Men recently. All because Janet couldn't keep from flapping her gums.
Jan has always been a bit on the...flighty side anyway. She's the one, who after losing her father, had Henry Pym...a man not completely working with a full deck of cards ANYway...experiment upon her, giving her wings, a sting and the ability to shrink. He also inadvertently made her more powerful than himself, which had to contribute to his own self-esteem problems. She spent her time buzzing around trying to trap Hank into marriage, or flirting with all the other members of the Avengers, when she wasn't designing hideous costumes and fainting.
Then there was this.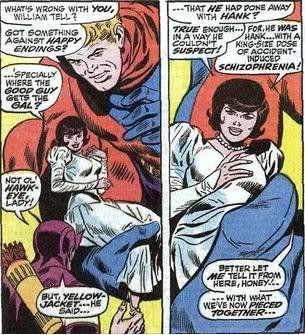 Yes, Janet tricked a crazy man into marriage. Mainly to score off of the other Avenger women, if my memory is correct. Remember, Hank was so nuts, he thought that he had KILLED HIMSELF! Or at least his alter-ego. Jan knew this, and played along with it. It's actually hard for me to decide which one of them was more psychotic. Later of course, poor Hank had a really bad day, and slugged her, which was a VERY terrible thing to do. And was lableled a wife-beater for all eternity. Funny, Reed has been shown smacking Sue around on a regular basis, but never got the same treatment. Anyhoo...they get divorced, then they get back together, then break up, then get back together, then get the Ultimate treatment, where he REALLY beats her up, then they get back together, then the Skrulls give her some weird potion to make her give people germs or something, and Thor blows her into another dimension.
But I'm sure she'll be back. Just remember...if you are lying around a pool, engaged in idle conversation with Janet Van Dyne...LEAVE IMMEDIATELY! Or you too, will be responsible for the next Marvel Event. A face worse than death.