DC Universe Holiday Special
I am a total sucker for Christmas issues of comic books. I buy them every year, and revel in their saccharine goodness, and plot contortions. This year is no exception, expecially because that HAS to be a Frank Quitely cover. Nobody else can draw a chin like that.
There are quite a number of little goodies in this particular offering, not to mention some very nice artwork. The opening story is about a wonderful alien from another world who comes to earth and tries to make things all better. He then builds an incredible fortress in the arctic, grows a beard and starts delivering toys. I freely admit that I completely fell for this, and it has Ivan Reis helping to draw it.
Then there is an Aquaman story. Aquaman! In all of his orange and green goodness! It also has a pregnant lady, pirates, a storm and an honest-to-goodness Kraken. What's not to like?
Paul Dini does Good King Wenceslas, which I was humming as I was reading it. Dustin Nguyen does the art in a lovely watercolor look, that is just gorgeous.
There is a rather sweet story about Gotham, and how they go for the entire day without a single crime or emergency. Commissioner Gordon and the rest of the cops, not to mention Batman are going a little crazy waiting for the other shoe to drop, but they end up enjoying it all, and indulge in a little bit of hope. Then you get to the last page and realize that there is a twist...but a delightful twist. Let's just say that Supergirl is definitely going to sleep for a week.
There is a nice little story about Nightwing getting a present for Tim, and meeting him at the movie theatre, where Tim goes to watch "It's a Wonderful Life". Turns out that he used to watch it with his Dad. Who should show up but Boomerang! Turns out it was HIS Dad's favorite movie too! While I adore Boomer, I must admit that I had my moments of skepticism about this story. Didn't their respective fathers kill each other? That must have been...awkward.
Then...THEN there is a story with Blue Beetle. ALL the Blue Beetles! Woohooooo! Three generations of crooks being taken out by three generations of Beetles, with a nice little zing at the end. You just can't go wrong with a Blue Beetle story.
Huntress shows up next, with Rafael Albuquerque on the art. He didn't get to do Blue Beetle, but he does a lovely job with Helena, and a little story about high school, bullies, and redemption.
Then all the Titans show up in New York, to meet at Lincoln Center, and do a little shopping and bonding. Jaime goes off with Traci 13, while Red Devil pouts, Cassie and Tim make peace, and this new Bombshell person sulks and then gains a little peace. Oh, and Meggan shows up, and they get to beat up bad guys,and it all ends happily...of course.
But then, as they say, they saved the best for last. Or ALMOST last, as the last story is one with Doctor Light, being ambushed by the BAD Doctor Light's old buddies. The art, by Rudolfo Migliari is done in a very painterly fashion and it is GORGEOUS!
But the one that really tickled my funnybone was the one written by Alan Burnett and drawn by the incomparable Kevin Maguire. Ahhhhhh...Maguire drawing the Justice League just makes my heart go pitter-pat.
Vixen is hosting a Christmas party up in the satellite and it's falling rather flat, as everyone stands around and acts bored. Roy and John Stewart should be there, but they have to fight the Shaggy Man first. They do manage to defeat him, with Roy shooting him full of Batman's nerve drug, which puts him into a fairly happy frame of mind. Then they all show up at the party...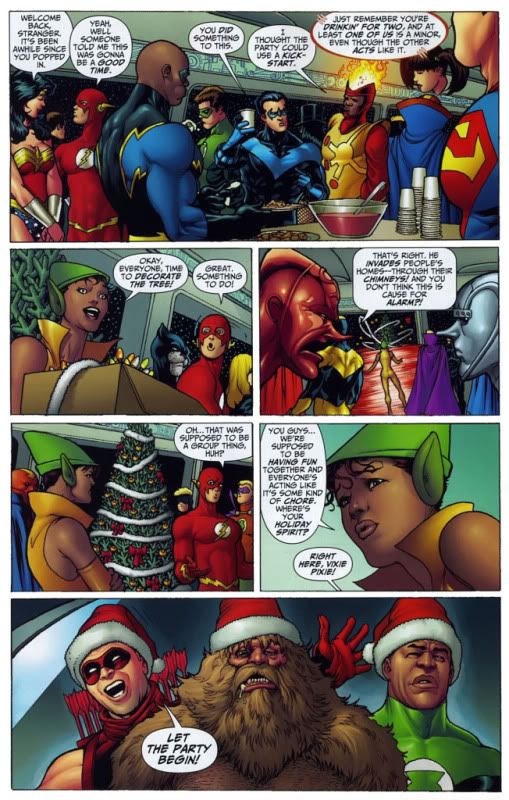 Heehhee! John in a Santa hat! They were going to drop him off at S.T.A.R. labs, but they were all having an office party. He then proceeds to eat all of Dinah's fruitcake and drink most of the punch. But his arrival does seem to loosten up the crowd a bit...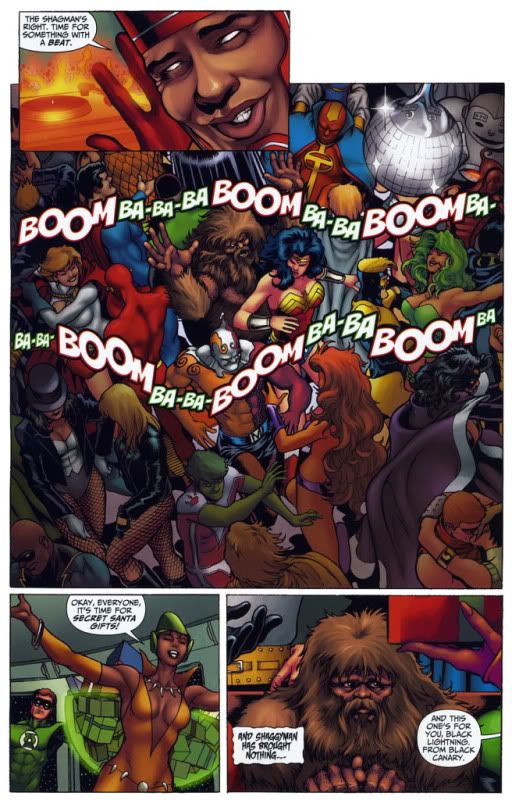 Fire and Booster seem to be having an awfully good time. Zatanna and Dinah are comparing stockings, while Wonder Woman seems a bit disconcerted by Shaggy Man's...er...dancing. They even get presents.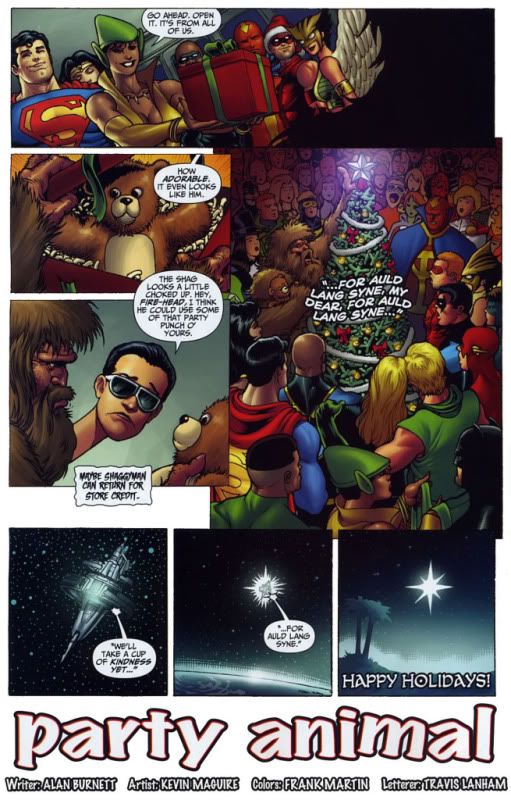 Hawkgirl gives Batman a tie. He already HAD a Defabrophibulator. Platinum gets Turtle Wax. Plastic Man gives Superman a framed photo of when he was turned into the fattest man on earth by red kryptonite. I LOVE Secret Santa gifts! I can't help but wonder what the rest of them got. Roy probably gave Hal a box of Christmas colored Condoms. Geo-Force got a box of Peanut Brittle, but knowing him, he's probably allergic to nuts.
But anyhoo...it's fun, and a little sappy, but what the heck. Well worth picking up.