Back In The Saddle!
Well, I'm back...from a truly spectacular 3-day weekend, and the final Fife and Drum Muster of the year, the amazing Thunder in the Valley, in Moodus, Ct. We stayed at an astoundingly quaint country Bed & Breakfast, we marched in a nice short parade, we ate, we drank, we played and we made utter fools of ourselves for three glorious days, in equally glorious brilliant New England weather.
I'm exhausted. But happy.
At least until I had to go back to work this morning, which rather took the edge off of all that happiness. But I hope that everyone ELSE had a lovely Fall weekend as well. Did anything exciting happen in the world of Comics?
I did notice...eventually that I managed to completely forget to pick up Hawkeye from Marvel last Wednesday, so I have to hope that there are a few copies left over this coming Wednesday, because that is actually a heckuva good book. And I also missed the Miss America book or whatever, that has Loki in it, and gosh, I simply love Loki. I'm so glad that they are keeping him as a teen and that Gillen is going to continue to write him in the new Young Avengers book, which looks to be pretty amazing.
I also hear that they are going to be dropping the newest Blue Beetle book at DC, along with Frankenstein and maybe a couple more. I loved Blue Beetle when Giffen and Rogers were writing it, and later Rogers alone, but this latest incarnation just didn't grab me. It completely lost all of its charm and wit, not to mention it messed with some of my absolute favorite supporting characters, so I'm not that sorry to see it go. I do apologize if it turns out to be someone's favorite.
I'm still sad that JLI was dumped. It didn't really seem to have such bad sales to justify cancelling it. Now I don't have Booster anymore. Although I WAS intrigued to have Time-Travelling Booster show up and thrilled to pieces that they mentioned Rip Hunter. So something still exists from the REAL DC Universe. Alternate realities are fine for a little while, and apparently we are keeping this one around until all of the writers get those Elseworlds storylines out of their systems and we can go back to telling REAL stories again.
Sorry, I seem to be flogging a dead horse with this topic, but if you have been reading me for any length of time, you know by now that I can really hold a grudge.
Only two more weeks....and it will all be over. The incessant phone calls, the non-stop television ads, the mind-numbing debates, the asonishing tons of junk mail...all, all over. I can hardly wait.
And...apropos of nothing, but because the sheer insanity of it all just pleases me...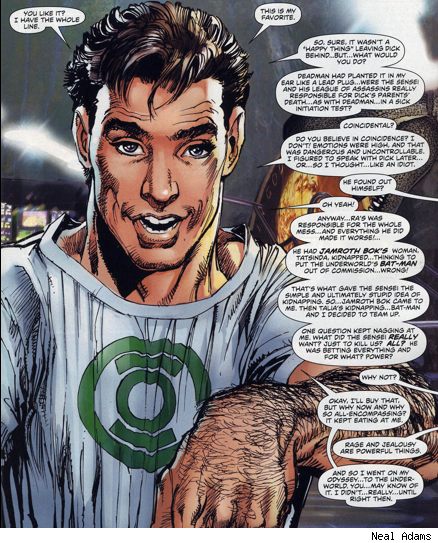 I give you Bruce Wayne from Neal Adams Odyssey, wearing a Green Lantern T-shirt. This had to be the most bizarre and insane series that I have ever read. And I loved it. I don't understand ANY of it...but I loved it.