A Green Lantern's Chequered Past
So...there was this Green Lantern, who turned out to have stolen a vehicle...and I'm NOT talking about the new guy, Simon Baz. No, I'm referring to my own best beloved Green Lantern...Guy Gardner.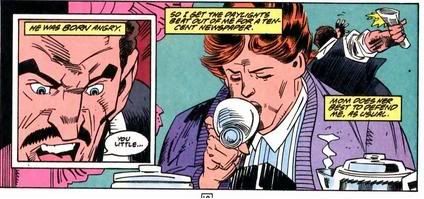 As we all know, Guy had a pretty rotten childhood. His loathsome parents made it clear that his older brother Mace, was the fair-haired child in the Gardner household, and from trying to win his Father's love to giving up and saying the heck with it, Guy became somewhat of a Juvenile Delinquent. In fact, right after his 18th birthday, his brother, who had become a Cop at that point, caught him joy-riding in a stolen car, had him brought to the football field of their High School...and proceeded to beat the ever-living crap out of him. Then he stuffed some cash into his pocket, told him to go out and get a job and stop giving their Mom gray hair.
Guy was actually smart enough to do just that. Plus, he did have this whole love/hate thing going with Mace anyway. He got a job, he got two jobs, he got his GED, he got into the University of Michigan, got onto the Football Team, no less, and graduated with a double Major, in Education and Psychology. And he did it all on his own...with no faithful Butler, or billions of dollars, or knowing the right people or anything.
So while I certainly don't APPROVE of stealing cars, maybe it isn't such a bar to being a Green Lantern as it seems. And, if I recall, didn't Hal go to PRISON for a DUI back in the day? I'm sure that's all been retconned out of existance...but still. I remember it. You might remember it too. John may not have stolen any cars, but he does have this nasty habit of blowing up planets. Kyle seems to have lived a pretty exemplary life, all things considered...at least in relation to his comrades-in-arms.
Green Lanterns are Bad Boys wtih fabulous Behinds. What more could you possible want?