Cops In Spaaaaaaace!
So I was just ruminating to myself, in my usual fashion, about just how completely fabulous the Green Lanterns are, and it suddenly hit me. I know they can be described as "Cops in Space", which is a mindbogglingly wonderful concept. But...exactly how does that work?
Can Hal, or Guy or John or Kyle arrest somebody on earth? Does Oan law supersede New York City? What about due process? What about the law and customs on Korugar, or other planets? And exactly just who put the Guardians in charge of everything anyway?
I would have to assume that the Guardians put themselves in charge. After all, they've been around for a VERY long time, and were probably there before any number of planets gained sentience and civilizations and so on. So...presumably, it has ALWAYS been that way. Still, it has to be something of a shock to planets who have only recently gained the ability to travel in Space...such as Earth...to realize that there is a whole other system of law and order...Out There.
Are there courts on Oa? Lawyers? Or do only the really BAD guys bet sent to the sciencecels? Or is it only intergalactic crimes that are punished? If you are a space pirate, presumably, the Green Lanterns can go after you. I would guess that Hal can grab some muggers and turn them over to the cops, with a little more authority than say...Blue Beetle or something. Or are GL's considered to be the same as the other super heroes/vigilantes?
I rather wish that some of the Green Lantern writers would incorporate this sort of thing into their stories...it could be interesting. It could also be interesting, if in the grand scheme of things, the Guardians get their eventual, and much-anticipated comeuppance.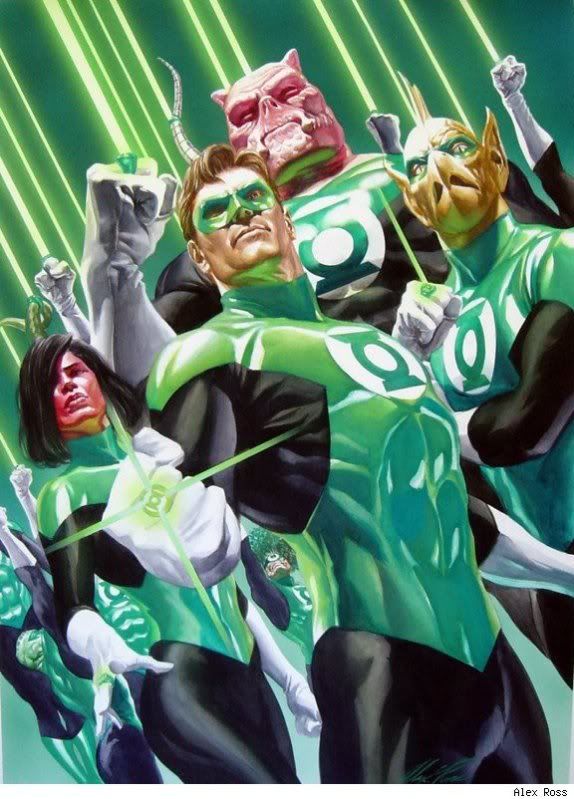 Green Lanterns. You just have to love them.