Green Lantern Corps #2
Well! And the mayhem continues!
The Green Lanterns have arrived on the former ocean world, to find all the water gone, and all the inhabitants dead. Needless to say...they are not pleased. And it's just icing on the cake when they discover a pair of impaled Green Lanterns. Isamot in particular takes it hard, the two went through training with him. So, they plot strategy and vengeance for a little bit, and then we switch to the lair of the perpetrators of this villainy.
Oddly enough...it looks as though there is an strange little...lantern in that cavern. Glowing green no less. How peculiar. Who exactly ARE these people? They certainly seem happy with their purloined ocean however.
In the meantime, the Lanterns have hightailed it to Xbas, which is also under attack, with trees disappearing this time. Is someone trying to recreate life on their planet at the expense of others? That's what it is beginning to look like, and the Lanterns don't like it one bit. They are trying to save the civilians, when suddenly a whole passel of armored bad guys come swooping through a nice little portal. Even worse, their powers don't seem to be doing a whole heck of a lot. Which is when Guy and John decide to amp things up a bit.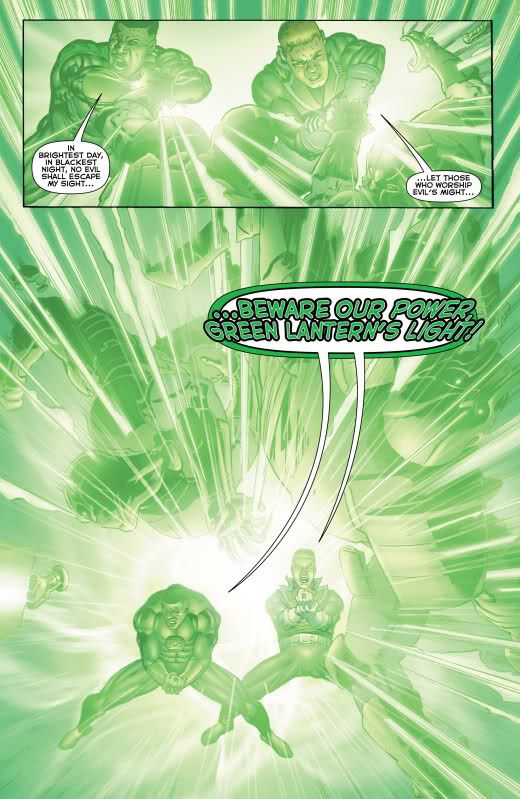 They recite the oath AND let loose with some serious willpower! And Guy, does it crotch first, which is always endearing...at least to me. This rather surprises the bad guys, who decide that all Green Lanterns are not created the same. Too bad that poor Isamot, in an attempt to plug the portal gets sucked through and ends up in a Very Bad Place.
Attempts to interrogate their prisoners doesn't go too well, and then Isamot ends up dumped back in their laps. They are pleased to see him, but too bad that it is sans arms and legs! Sheesh! And even worse...there are more coming!
This was fun, the art is darned pretty, and althoug I prefer Sheriff Mardin as a small plump purple lady, I guess I can live with it. She must have gone to the same plastic surgeon as Amanda Waller. It's nice to see Guy and John being just so darned fabulous. I would have liked for Brik to do something, but I'm sure that will happen...eventually.
Dang it, I like this book. I like it a lot.