The FLASH: Rebirth #2
I liked this. I liked the first one too.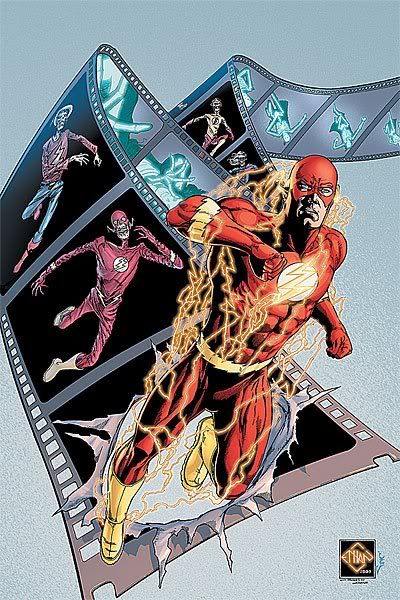 For one thing, it is by Geoff Johns, and I have learned to trust Geoff Johns. He very rarely disappoints me. It is also drawn by Ethan Van Sciver, and I adore Ethan Van Sciver. So right off the bat, I know that it is at least going to have an interesting plot, decent dialogue and lovely artwork.
As we learned in the first issue, Barry Allen is somehow, back from the Speed Force. Barry himself seems rather bemused by this unexpected turn of events, but just about everyone else is beside themselves with joy. Hal in particular is delighted to have his old buddy back among the living, although he can't seem to get over the differences in the circumstances of their respective "deaths". Barry, Hal exclaims, died as a Saint, but he, possessed by Parallax, died as a sinner. As usual, Hal is exagerating to a certain degree, yes he was possessed by Parallax, and did some very very bad things when not in his right mind, but he had pretty much done his best to redeem himself before dying in order to restore the sun. But since Hal would rather wallow in guilt for a while, he fails to mention all of this. I get the feeling that Barry doesn't quite know WHAT to think, but that he wishes Hal would lighten up a little.
So...Barry is back. But something just isn't quite right, and he can't quite put his finger on the problem. We have some flashbacks, with his old job as a CSI, and his romance with Iris, which has been updated a bit in typical Johns fashion, but I was really interested in the problem of what is happening to all of the speedsters in the world. Barry teams up with Wally, which is nice, and they end up being attacked by Lady Savitar, who blames Barry for the death of Savitar, not to mention, they stumble across the charred corpse of the old Black Flash. Too bad for Barry, that he appears to have inherited the mantle of the Black Flash, much to his and Wally's horror.
Now THAT was unexpected...at least by me. I can't help thinking that this is all going to tie in somehow with the upcoming Blackest Night story, which should be very interesting to say the least.
There has been a certain amount of kvetching on the internet about the return of Barry...that it was disrespectful to Wally, that Barry was dull and boring, and didn't NEED to come back, that Geoff Johns is too ready with a retcon...but I have to say that I disagree. I like Barry. I've always liked Barry, but in a mild sort of way. I wasn't really that emotionally invested in him as a character, so it is no skin off my nose WHAT Geoff Johns wants to do with him. For that matter, Jay is my favorite Flash, although I'm quite fond of Wally too. But if it is going to be a good story, why NOT use Barry? If he is suddenly going to be the unwilling avatar of Death for Speedsters, I can see where that would put a serious crimp in Flash picnics. So far at least, I am intrigued...and I want to see where this is all going, and what is going to happen when we get there.