Blackest Night #0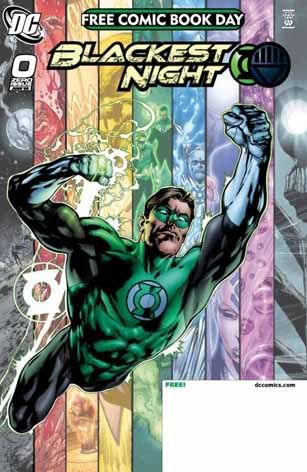 I hope that all of you were lucky enough to snabble one of these little baby's at the Free Comic Day giveaway. Written by Geoff Johns of course, and drawn by Ivan Reis, so you KNOW that the art is going to be gorgeous, and it is.
Pretty, eh?
We get a bit of backstory, Hal is mourning the apparent death of Batman, and when Barry shows up, he tells him that they may have had their differences, but that he still looked upon him as a friend. They go on to discuss the deaths of any number of their friends and collegues, and wonder at the miracle of their own resurrections. Barry is drawn always a little out of sync, with his body vibrating just a bit, and it is a very nice effect.
We see some different graves, and then Black Hand shows up, and for the first time recites his oath.
"The Blackest Night,
falls from the skies.
The darkness grows,
as all light dies.
We crave your hearts,
and your demise.
By my black hand...
the Dead shall rise!"
Creepy. Just like Black Hand. This is a nice little teaser, it gives some information,without spilling any major beans on the story, but I could see someone being interested enough to pick it up.
At the back of the book,are the lovely representations of each of the individual corps, as drawn by Doug Mahnke, and a little bit of pertinant information for each one.
If you are a Green Lantern fan, I would say to do anything possible to get this, you will love it! And if you are just dabbling...well, get it anyway. It's awfully pretty.
No behinds, but you can't have everything.