Oh Computer, I Missed You So
Well, I don't normally post on a Sunday, but since I missed both Friday AND Saturday, I suppose that I should let you all know that I'm not dead or anything. But since it is that time of year, I WAS attending the annua NETSA Trade Show at the fabulous Mohegan Sun Casino and Resort in deepest darkest rural Connecticut. NETSA of course, stands for New England Tire Service Association, or something like that, and my Sweet Baboo is on the board, so there is a LOT of wining, dining and schmoozing. Frankly, my feet are STILL killing me. When oh when will I realize that vanity is my downfall and wear sensible shoes?
So...I MISSED you all. I didn't go on a computer for two whole DAYS, and my blogging hand is shaky. And while Tire People are a wily and hardy breed, and the chocolate torte was to DIE for, it just wasn't the same. Not only did nobody know about Blackest Night, they didn't CARE!
Except...at one point, I snuck out of the exhibit hall, and collapsed onto an extremely comfortable chair, and pulled out a nice TPB, with the JLA and the JSA teaming up, because I was starting to get the shakes, and a handsome young Marine, in his dress uniform walked by, spotted the book I was reading and gave me a BLINDING smile and a thumbs up.
My faith in humanity was thus restored, and I was able to face the wine and cheese party with equanimity.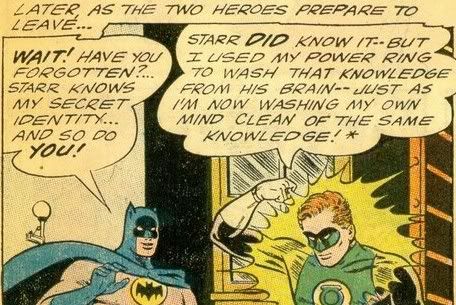 Hoohah! Oh Hal, I needed some of your buffoonery. Self-induced lobotomys are ALWAYS the answer!