And Oh, what a Lovely Wednesday it Was
Small but choice, were the books that came out this week.
As you all know, I'm not too much of a Batman fan, but I've been reading the story in Batman Confidential,which is the one with the Riddler and King Tut, and it's a keeper. The plot and the dialogue both sparkle, and the artwork is crisp and clean, and very very good. I can't help but fall a little for Eddie here, he is just perfect teamed up with old Bats. The villain is of course,completely off his rocker, but in that old-fashioned Bat sort of way that is so insidiously charming.
Booster Gold #19 came out, and it continues its team-up of Booster and Booster. Rip makes a welcome appearance, and believe it or not, is both surprised and relieved when Booster manages to save the day. Too bad that Michelle gets all weepy and hysterical and goes nuts on poor Skeets. And look! Another blackboard full of fun clues!
Green Lantern #39. Oh God, yes.
Secret Six #8 was the catch of the day, even topping Green Lantern for me. Deadshot is going out on a date with Jeanette, albeit reluctantly, and ends up being on a double date with Scandal and...someone interesting out of her recent past. Since Floyd and Scandal make a pact NOT to kill anyone on their evening out, hi-jinks and hilarity ensues! Gail Simone is at her witty best, and the art by Carlos Rodriguez is very nice, although not quite up to par with Nicole Scott. Still, it's a whole lot of fun.
The added bonus is an additional story at the back, also written by Gail,and drawn by Amanda Gould in the style of the Tiny Titans. Ragdoll is dreaming, and his vision of the world is simply too precious for words.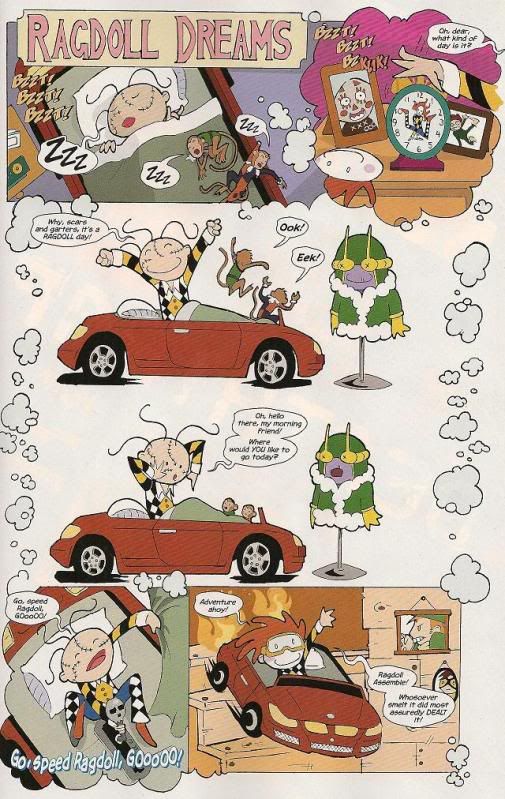 It...it's so CUTE! The six show up, along with Superman, Batman, Wonder Woman, Amanda Waller, the Titans and Mr. Miracle, not to mention Green Lanterns. It's Guy, G'Nort and Kilowog! Guy shows off his bum! I'm in tiny adorable sugar-induced heaven.
Oh,and Trinity was good too. Things are beginning to seriously hit the fan.
It was a remarkably FUN week, all things considered. Well...there's a lot of death and gore in Green Lantern, but for ME that's fun. I'll get to that tomorrow.