A Little Bit of History
So, a couple of days ago, I was merrily checking out Adam's daily post over at "Comics Make No Sense", when, what to my wondering eyes should appear, but THIS cover.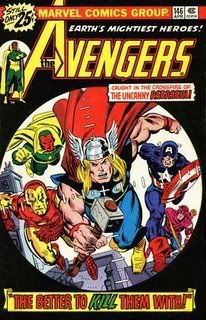 Well, to put it mildly, I was hornswoggled. Gobsmacked. Nostalgic, even. You see, this was the Very First Comic Book that I ever bought with my own hard-earned babysitting money.
Back in the 1970's it was, and I was a much much younger and thinner Sallyp. In fact, I wasn't a Sallyp then, but a Sallyf. They didn't even HAVE Comic Book stores yet, you had to go down to the drug store, where hopefully, the books would either be on a spinner rack, or jumbled in with the regular magazines. There was no such thing as back issues. Books cost 25 cents. They were 20 cents, but had recently gone up. They had a letters section in the back of the books, where people who wished to comment on the most recent comical opus actually wrote in, and prayed that their letter would be printed and commented in turn upon, by an editor. An awful lot of current writers wrote fan letters back in the day.
I didn't really care much about the Avengers, but I DID have a burgeoning crush on Thor. I just loved his hair. It didn't hurt that I was on a Norse Mythology kick at the time, and had learned the Runic alphabet, and stuff like that. Hey, I was a teenager! And John Buscema drew such nice looking people. Although even at that tender age, I thought that Wanda was pretty useless.
It was a short two-parter, and a fairly decent story, all things considered. For example, I learned thatHawkeye was able to survive his poisoning, because he had a glass stomache. Exactly HOW he gained such a surprising organ was not explained, and I did wonder how he managed to survive being punched, but it did catch my attention. So, I started collecting Thor, and Avengers, and even X-Men, when it was being written by that Claremont fellow, and drawn by that Cockrum guy. Turns out, they did some pretty good stuff together.
Then I graduated, went to college, got married, had babies, and moved onto other things for a while. Didn't collect comics anymore (but still kept them) until a few years went by and I suddenly realized that they were a lot more visible, and readily accessible than they used to be,and all that pent-up longing and desire for brightly-clad men and women in tights came flowing back. Only this time, it was DC and not Marvel that held my attention. Funny how that works out.
Anyhoo...can you all remember the very first comic book that jumped out at you, and you had to...HAD to buy it right then and there, and hold it in your trembling hands?
Because, I imagine that you always remember your first.