Uhmmmm...!
Oh it's going to be one of THOSE days. The kind where you stare blankly at the screen, without a thought in your head.
I haven't seen Watchmen yet, so I can't really discuss it.
I haven't gotten the Wonder Woman DVD yet,so I can't dscuss it either, although I really really want to.
It's Tuesday, so the new books don't come out until tomorrow.
I've already been over to Pretty Fizzy Paradise, where Kalinara is running the Second Annual Flame War, and it was pretty enjoyable.
Over at the Hoosier Journal of Inanity, Mr. Sea has been preoccupied with important things such as Real Life and therefore hasn't drawn any more of his "Itty" series in a couple of days. Therefore, I am pissy.
So here.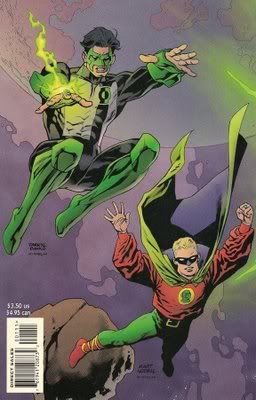 This is a very nice picture of Kyle and Alan. I get so wrapped up with Guy and Hal that I sometimes forget all about the oldest and youngest of the Green Lanterns and that will never do.