I've Been Paying Way Too Much Attention To Hal
Time for a little Guy love. Hal has been stealing the spotlight far too often lately. In his defense, he DOES make it very easy to make posts, what with the ego, the head-bashing, and general dimwittery. But I haven't talked very much about Guy lately, or Kyle OR John, and they are just as...nay MORE than as important as Hal buffoonery.
As much as I enjoy the way that Guy Gardner is currently being written...and I DO...I have to shamefacedly admit that sometimes I miss his old-fashioned assholeishness. Granted, a lot of writers seemed to take his general air of cussedness a little bit TOO far, but you have to admit, that love him or hate him, Guy always was and is, an interesting character.
That...and he's just plain fun.
His relationship to Hal is also...very interesting.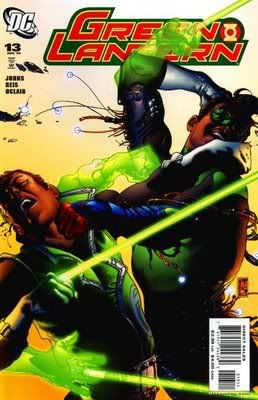 Sea of Green, over at the Hooser Journal of Inanity, has been having a fine old time lately going through all of her stacks and stacks of old books, and picking out and posting the gems of her collection, for US! Her adoring fans thank her. She's had some great ones of Wally, during his time with the Justice League, International that have gotten me to thinking.
In a way, I think that Wally was supposed to be a bit like Guy, except in Europe instead of New York. He was always lusting after Power Girl, being insecure, and picked on a bit, and generally portrayed as a bit of a dweeb. The analogy can't go TOO far, because with all of his faults, Guy was NEVER a dweeb. They were similar in that they both had to try and live up to a previous incarnation of their name and powers however. Wally is far more of legacy to Barry of course, being a former sidekick and all. Guy was never a sidekick, but he still has to live and function under the very large shadow of Hal Jordan. They used to bicker like crazy, but every once in a while, there was a little bit of understanding.
Awwww. They did manage to find an common bit of ground. For a little while anyway. I don't think that there has been any interaction between Guy and Wally since the latters return and that's a darned shame. That is the only problem with having Guy and Kyle bouncing around Spaaacccce, they don't have any contact with the rest of the superheroes. However, I'm sure that will happen eventually. Probably during the whole "Blackest Night" event that is looming on the horizon.
It would be nice if they could work in a little mention of J'onn's death in Green Lantern Corps somehow. Both Guy and Kyle were in the League with him after all. J'onn served as the head babysitter for the JLI, and Guy actually minded him once in a while. I think that J'onn at least handled Guy better than Batman. It is a good thing that Bats is smart, because his people-skills are pretty piss-poor.
This is all starting to meander a bit, which I suppose is what happens when you are typing in a purely stream-of-conciousness manner. But I do have one more scan of Guy.
And now we know all about that haircut. Isn't that cute?