Let's all take a Whack at Hal
Yes, I'm at it again. This is the sort of thing that happens when I can't really think of a single thing that is witty or inciteful to say. I fall back on that most precious of crutches...Hal Jordan getting Whacked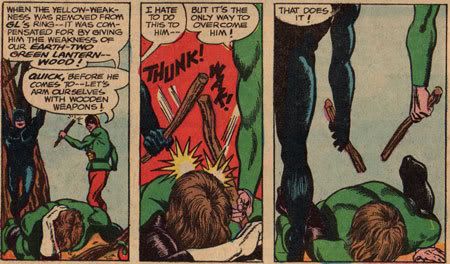 And Boy Howdy, is he ever!
I'm not completely sure where I found this particular scan, probably either Scipio or Sea of Green, but that sure looks a lot like Wildcat and Hourman taking their sweet time giving poor old Hal the once-over. What is REALLY strange, is that they are apparently laboring under the assumption that they are actually beating up Alan Scott.
They may both be Green Lanterns, but really, if you can't tell Alan from Hal, then there is definitely something wrong with you. Alan may have a weakness to wood, but Hal certainly doesn't. What Hal has a weakness for, is women, marriage proposals and yellow ceiling tiles.