Some Hal Buffoonery
Crap in a hat, it's hot out! They actually sent the kids home from school at noon, because the classrooms were too hot! They never did that when I was a kid. Nope, we had to walk a MILE to school, and they never cancelled school, even when there were blizzards and we were being stalked by polar bears. And WE didn't have computers and Tetris, and...and...oops. Got a little distracted there.
Anyway...I'm hot and cranky, and can't be bothered to be brilliant. So I'm just going to post scans of Hal looking stupid, bless his adorable little heart. I can always count on Hal.
Oh Hal. It's even beginning to dawn on you, that Yellow in NOT your friend. And a nice shot of his behind, to boot!
Do you get the feeling that this has happened before? He doesn't even seem surprised.
Oh now, this is just getting silly.
It's bad enough being beaten up by a monkey, but now the cops are at it too!
But just for fun...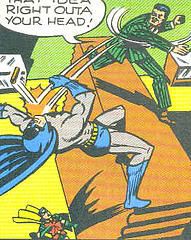 A rare example of Batman getting hit in the head. So for all the people who had a heart attack when Hal rang Batman's bell back in Rebirth, it HAS happened before.
Hmmmmm....Hal hitting Batman....!
Oh yeah. That's the ticket. For me, there is not only the delight of Hal actually delivering his well-deserved comeuppance to Bats, but the look of pure amazement...nay, JOY on the face of Guy Gardner.
Poetry.