Kilowog and Arisia
Two of my favorite characters. I started thinking about them, mainly because of Sea of Green, and a post that she did over at the Hoosier Journal of Inanity, whereing she speculates that perhaps Kilowog and Arisia ought to get together. Then I was over at Duskdog's site, Towards Twilight, where she has some excellent fanfiction about Green Lanterns, and she even had a story about Kilowog and Arisia, called "Lucky". And it occurs to me, that it is TIME, dammit!
Time for Kilowog to get a love life. He had that odd little attraction to Arisia, that dates from waaaaaaay back in the day, but he's never really acted on it. Arisia knows about it, because she had to go into his head while he was trying to snuff Sinestro, but I don't know if she has ever really made any mention of it. Because at the time, she was completely hung up on Hal Jordan, and we all know how THAT worked out.
But anyway, the Corps is back together, and Arisia is back from the dead. While she still thinks that Hal Jordan hung the moon, I don't get the feeling that she's quite that same naive love-struck young girl anymore. His behavior as Parallax probably went a long way towards erasing the stars from her eyes, and hanging out with Guy at the bar probably helped too. Plus she had that whole "dead" thing going on.
I did think that it was interesting in that issue of Green Lantern where she is resurrected, and she and Hal are battling the giant Manhunters, that she says that she missed "this" meaning, the fighting, while Hal says that he missed "her." But he's all hung up over Cowgirl at the moment, not to mention probably having mixed feelings about Carol Ferris, and while he may be happy enough to kiss her, I don't think that he's in love with Arisia anymore.
I think that Kilowog on the other hand, COULD be. He was a bit over-protective of her during the whole Sinestro Corps kerfuffle when they were battling over Mogo. He doesn't seem to think TOO highly of Sodam Yat, who is her new partner. For that matter, I don't get the impression that Arisia herself thinks too much of Sodam Yat. With all of his power, he's a bit too raw and uncertain. As big an idiot as Hal can be, he's NEVER uncertain, and the same thing goes for Guy, two men, that she's quite fond of. The same thing goes for Kilowog. So it might be nice for a bit of a budding romance between the two of them.
While we are at it, let's find somebody for poor old John. He's been lonely for a very long time. Or else resurrect Katma. Heck, everybody ELSE has come back. And I want to see Guy and Tora go out on a date, dagnabit! And it is possibly more than time for Salaak to go back to that resort planet and hang out with those android Tigergirlzzzzz. He's been awfully tense lately.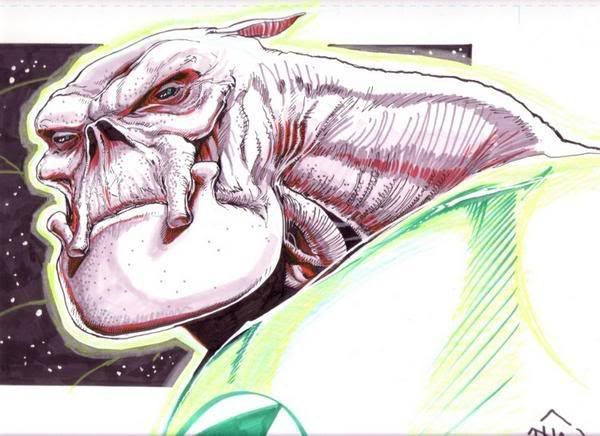 Oh Kilowog. There's just so much of you to love.