Green Lantern Corps #18
Well! I am in parts bemused, enthralled, and yet still hungry for more.
For those of you who remember, THIS was the original solicited cover: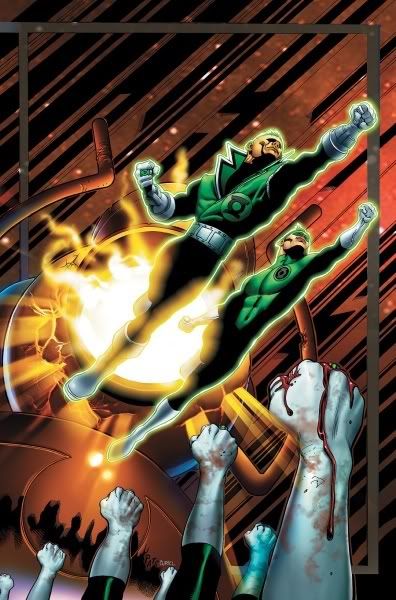 Cool eh? However, that was quite a while back, and I do believe that they ended up switching things around a bit and changing the story. So instead, we ended up with THIS cover:
<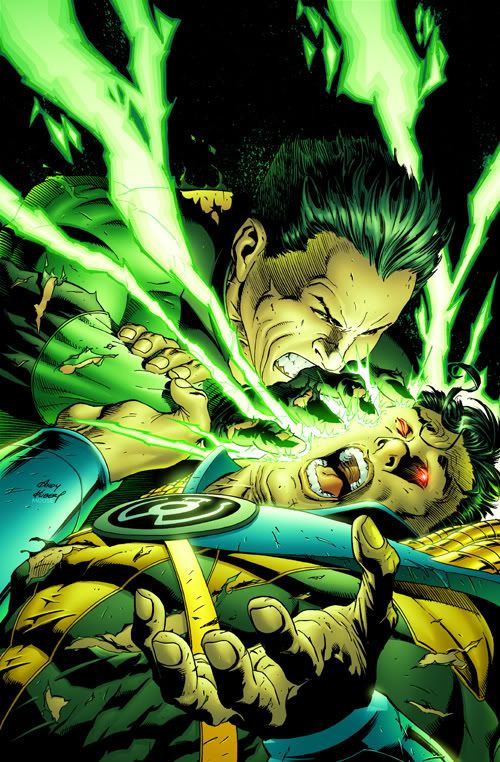 Also, very nice.
Also, as it says, right on the cover, this issue is Superbrat Prime vs. Ion. (Not Kyle) Instead, the Guardians in their infinite wisdom, have seen fit to imbue young Sodam Yat, with the Ion whale in order to go up against Superbrat Prime, who is making SUCH a pest of himself.
Things DO start with a bang. The art is back to being Pat Gleason, which fills me with delight, while the flashback sequences to Yat's childhood are handled by Jamal Igle, who is an excellent penciller as well.
Basically, the book is one long fight scene, with several flashback sequences that explain Sodam Yat's childhood on Daxam, and what makes him the hero that he aspires to be. I must say that his parents are a piece of work. I didn't realize how xenophobic the Daxamites were. Fortunately for his continued success in the Green Lantern Corp, Yat doesn't have the same tendancies.
There are some really amazing fight scenes. They fall into a body of water (Croton-on-Hudson) and with the use of their heat vision, boil and evaporate it all away, leaving a lot of flapping and or cooked fish, and ominously, a human skeleton. Then they end up taking the fight to the Indian Point Nuclear Power Plant, in Buchanan, NY, which turns out to be painful for poor Yat, since as a Daxamite, he's VERY succeptible to lead poisoning. In his usual extrememly obnoxious manner, Superbrat uses this to his advantage, impaling Yat with a radioactive lead rod.
Ouch.
Superbrat also indulges in his version of witty banter, such as "Mmmm. I love the taste of uranium in the morning." He doesn't let up for a minute, and eventually they end up in Woodlawn Cemetery in the Bronx. Needless to say, coffins, bodies and headstones are soon flying all around.
Yat is having some troubles here. He has only recently been exposed to the yellow sun, and therefore doesn't have as much strength from it that Superbrat does. Furthermore, he's been weakened by the lead poisoning. But the biggest problem he has, is that although he has been imbued with the Ion power from the Guardians, I don't think that he has the slightest idea how to tap INTO the power, because he never manages to use it in the fight, as far as I can tell.
He keeps fighting, and Superbrat keeps taunting him...."All you really are is Superman-Lite with a power ring. Big Deal." and that he's killed a crapload of Green Lanterns, and that Yat isn't any more special than they were. And you know what? At this particular moment in time...he's right.
Superbrat beats the living crap out of poor Yat. I can't blame Yat for this however, since he's not much more than a rookie, and he's been thrown into a hideous situation by the Guardians. They've given him awesome power, and NO training in how to use it whatsoever. I can't help but think that Kyle would have done a better job, but then Kyle has had considerable experience in the use of the Ion power.
And then this...
Finally! John and Guy show up.
I enjoyed this of course, how could I not? I think that Greg Tomasi did a good job with his first issue, and the art is lovely. My only problem is that I'm left hanging, and wanting more. Which I suppose is the whole idea. I can't TELL you how much I am dying to get my hands on Green Lantern #25, which won't come out until December 12th. ARRRGHHH!
But if you want to see one heck of a whuppin', this is the ticket.