The Joy of Winter Sports
Well...Thanksgiving is over, it's the Monday after, and we are all bloated from turkey, pie, football and shopping. I admit to three of those things, because if there is one thing that I've learned over the years, it is NEVER EVER to go shopping on the Friday after Thanksgiving.
But now, another Christmas Season is at our throats. We've already had our first snowfall here, in lovely New England, and I'm sure that many more are on the way. Which brings me, in a very roundabout way, to the premise of my current bloviating.
I never learned to ski, but boy, I always loved sledding. A while back, I had posted THIS particular picture of Hal getting hit
All in all, a pretty good one. But to my chagrin, I never did figure out what the Tobaggan had to do with anything.
Until NOW!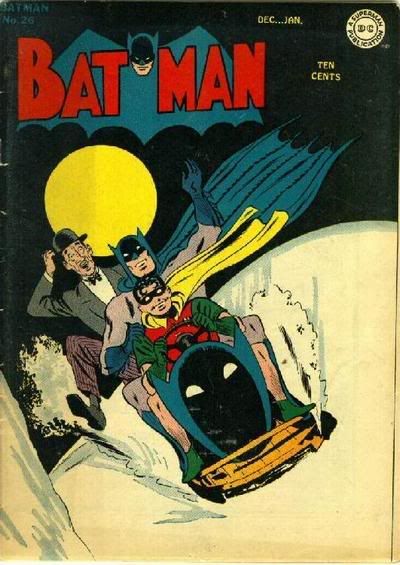 Holy Hi-jinks! A happy Batman! And look, there's even Alfred. And they are all riding on the Bat-Tobaggan. That HAS to be one of the greatest inventions that Bats has ever come up with! I mean, a Batmobile, Bat-Copter and Bat Shark-Repellant are all perfectly normal crime-fighting tools, but a Bat-Tobaggan is just EXTRA special!
I can only assume that Robin used to smuggle it out of the cave, and take it to the Teen Titan meetings in the winter.