Frank Miller and Hal
Just for the record, I have NOT read ASBAR. I bought one copy way back when, and found it to be just....bizarre. To date, I'm STILL not quite sure if he's being serious, or just having a huge laugh at all of our expenses.
But apparently, in the latest issue of All-Star Batman & Robin, Hal Jordan shows up. Batman is not impressed. To be blunt, he thinks that Hal is a moron. In fact he calls him that, or at least THINKS that. To be fair, I believe that Batman thinks that about EVERYONE, at least this "Goddamned" version of Batman.
Here's Hal.
Now, frankly, I think that's just adorable. The hotdog in particular, is a nice touch. It really is quite rude of GoddamnedBatman to say that he's "...seen more intelligent Hockey pucks." Granted, Hal isn't the brightest crayon in the box, but that's just part of his charm.
GoddamnedBatman is also very very jealous that Hal has that wonderful ring of his. "What an idiot. The THINGS that I'd do with a power like that." And so on and so forth. All of which makes me VERY glad that GoddamnedBatman DOESN'T have a Power Ring. He's crazy enough as it is.
So, anyway, on a tangent I managed to find a MEGO version of Hal at my beloved local Comic Book Store yesturday, and snatched it up. I've been on a bit of a tear lately, when it comes to finding cool action figures of Hal!
So, without further ado...!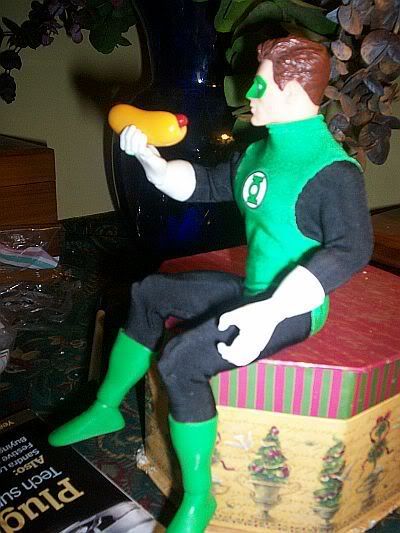 Oh, if only, I had a GoddamnedBatman figure to go with it!